Case Study #1: Laundry Room Horror Show
"It's a scary place." My teenager wasn't referring to our basement, a dark cobweb-filled space that gives even me the shivers. Nope, she was creeped out by the laundry room. It housed not only our washer, dryer, and furnace but also two huge shelves, small bookcases, a freezer, and lots and lots of junk—strewn everywhere. There was a clear path to the washing machine, but a trek across the room required tricky maneuvering.
This mess was years in the making. We'd used this room to repeatedly stash odds and ends when we cleaned up before parties. We hid toys, crafts, and boxes of yearbooks and memorabilia. Occasionally, I'd wander into the room, grab an item or two to trash or give away, and then scurry out. Just like my teenager, I didn't enjoy being in a clutter zone! Tackling such a big mess seemed overwhelming.
A few years ago, I worked with "Sally" to bring order to my family room and mud room. I decided to hire her again. Her friendly, encouraging demeanor, along with her calm presence and quick sorting skills, helped me stay relaxed and follow her lead. This time we set up a four-hour work session, for $320. She advised me to prep ahead of time: Gather empty boxes, disposable gloves, and trash bags; start removing unwanted items and recyclables from the laundry room to create space to work.
My goals: to clear out all the trash, outgrown toys, and unneeded items and make room for the clothes-drying racks, bikes, and other outdoor equipment scattered throughout our garage-less house.
I was anxious but prepared when Sally arrived. She quickly eased my mind as we caught up in the foyer. After a bit of chitchat, we surveyed the laundry room, set up a few bins, and started going through the mess. We each tackled one bag or box at a time; Sally kept us moving at a fast pace.
We sorted items into bins for giveaways, photos, household items to keep, and things to be laundered. We also set up a bag for trash. Whenever it got full, I hollered for one of my kids to haul it outside.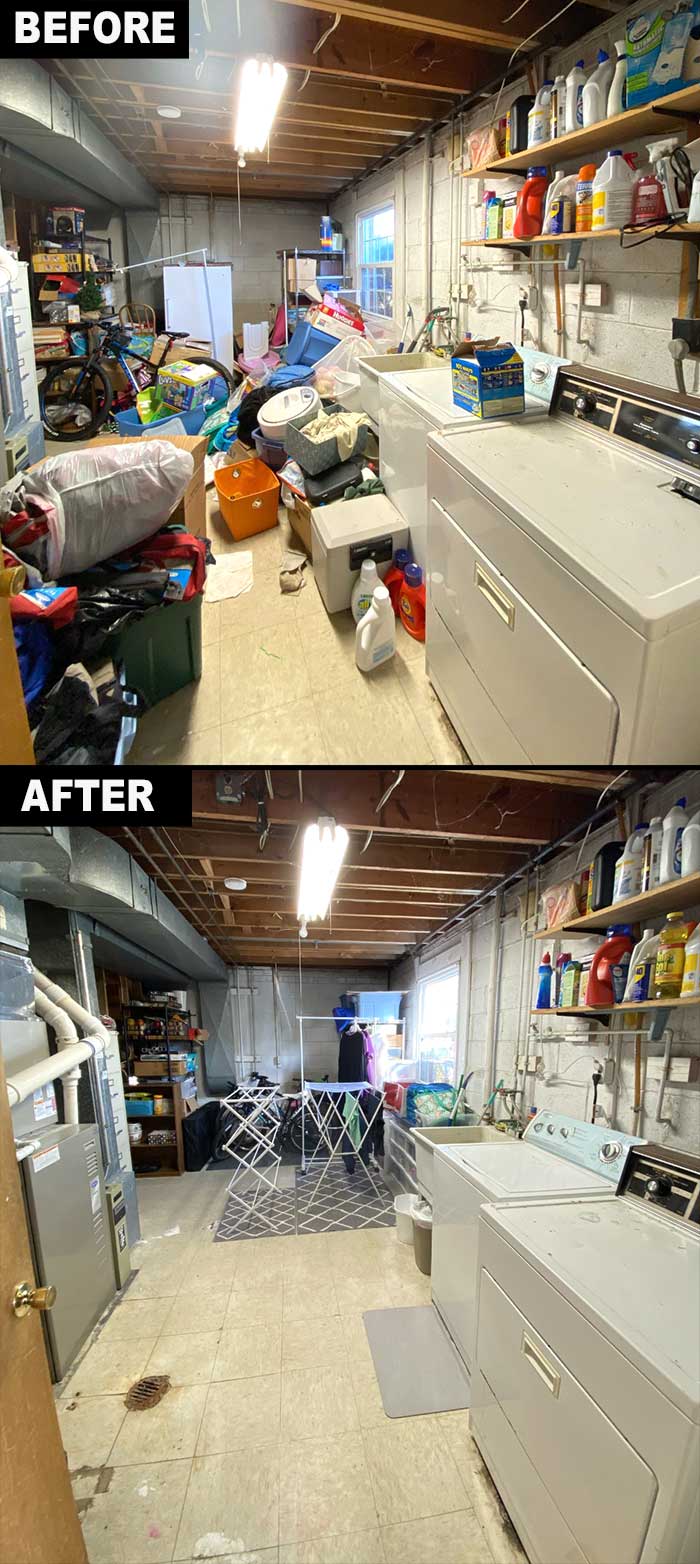 Working alone in a junk-filled room, I usually felt overwhelmed; I'd give up after a few minutes. With Sally, I felt at ease and wanted to keep going. Sally's positive words helped, too: She told me the clutter in my house wasn't so bad—it was like many other people's houses. She praised me for making quick decisions. Old toy? Giveaway! Towel? Keep!
When our work session was nearing its end, Sally took stock of the room and summarized our progress, pointing out each bin we had filled, its general contents (giveaway, dirty laundry), and made sure I knew what to do with it all.
By the time Sally left, we had categorized and stacked piles of boxes and bins. Eight full trash bags were in the carport. So much of the laundry room floor was now visible that I could sweep it. I was blown away! And so exhausted that I collapsed on the sofa for the next few hours.
A few days later, Sally emailed me an encouraging note with bullet points of follow-up work to do—tasks to both complete the laundry room cleanup and general clutter-reducing steps to take throughout the house.
Over the next few weeks, I gradually tackled the giveaway pile, posting items to my town's Buy Nothing Project Facebook page. I washed all the dirty sheets, towels, and socks that we had found in the laundry room, and found new places for the items we'll keep. After discovering that my utility company would pick up my unused freezer and give me a $75 rebate, I immediately scheduled a pickup. That freed-up space now holds several bikes. Also, I bought a few small rugs to make the space inviting and homey.
Our laundry room is now an open, space-efficient room for the cornhole and croquet sets, bikes, camping supplies, and, best of all, drying racks located next to the washing machine, not in the family room.
Lessons Learned:
Working alongside an organizer who is full of energy and encouragement helps create momentum and quickens the cleanup pace.
Long work sessions are exhausting but well worth the effort.
If you don't have time, don't worry about selling items or donating them in the most optimal way. You can pick a single resource that offers easy drop-offs.
It's likely your neighborhood has its own Buy Nothing Project on Facebook. Once you join, you can post items to give away; your selected recipients can pick up items from your front porch or driveway.
Don't be surprised to find peculiar items in your junk piles. We uncovered a few articles of baby clothing…and my youngest child is now a teenager.