Case Study #5: The Crowded Garage
When we moved into our house nearly 20 years ago, we had two sedans and no kids, and our cars fit inside our garage easily. But we've since added two tykes, swapped sedans for the inevitable minivan and SUV, and accumulated a lot of stuff. Like, a lot.
By utilizing the Tetris skills I honed in the 1980s, I made everything fit—including a six-foot-long wooden blue marlin. Sure, we couldn't open the car doors all the way, and the bikes kept falling over, but we still had just enough space to squeeze both cars inside.
I eventually got tired of trying to catch tumbling bikes, we got a dog too big to climb through a slightly ajar car door, and a shovel fell off the wall and hit me in the head as I tried to squeeze by. I knew we needed to clean up our garage act, but unfortunately everyone in my family suffers from both laziness and "we-might-need-that-later" syndrome. We needed a push.
I contacted several organizers but found many only do virtual visits or were unavailable. I eventually was able to reach two via phone.
The first was "Sophie," who asked a few questions and then recommended a pricey shelving system available from The Container Store. She also offered a free in-home consultation, if I wanted more specific advice. A few days later she emailed me her fee structure, and I realized that if I wanted more than free advice, I'd pay $1,000+ for her services, plus hundreds more for the shelving system.
Meanwhile, I spoke with "Wendy," who asked questions and offered to come see my garage the next day.
The next day Wendy arrived at the appointed hour with fluffy hair, wearing sparkly black sneakers, and armed with a clipboard. I liked her immediately. Her rate was $65 an hour, which was considerably less than Mary's, and she said I wouldn't need to buy additional storage items. She also told me several times she was "very handy" and would do most of the work herself.
She took notes as we looked around my Tetris zone. "How old are your kids?" she asked when she spotted a car seat and a booster. Shamefully, I told her, "10 and 17." Then, "Do they play basketball?" as she pointed to a hoop hanging from a nail in the wall. "Um, no." Although I was slightly embarrassed, Wendy continued to cast an impassive look around the space.
Wendy said my job would take five or six hours, and that she would work with me to complete it in one day, on the following Sunday. She explained that her rate is "lower than most" because organizing is a side hustle; her full-time job is running a warehouse. She also said she would haul away all my donations. Bonus: She was enthusiastic about hanging that dang marlin on the wall. ("I can do it; I'll just need help holding it up.")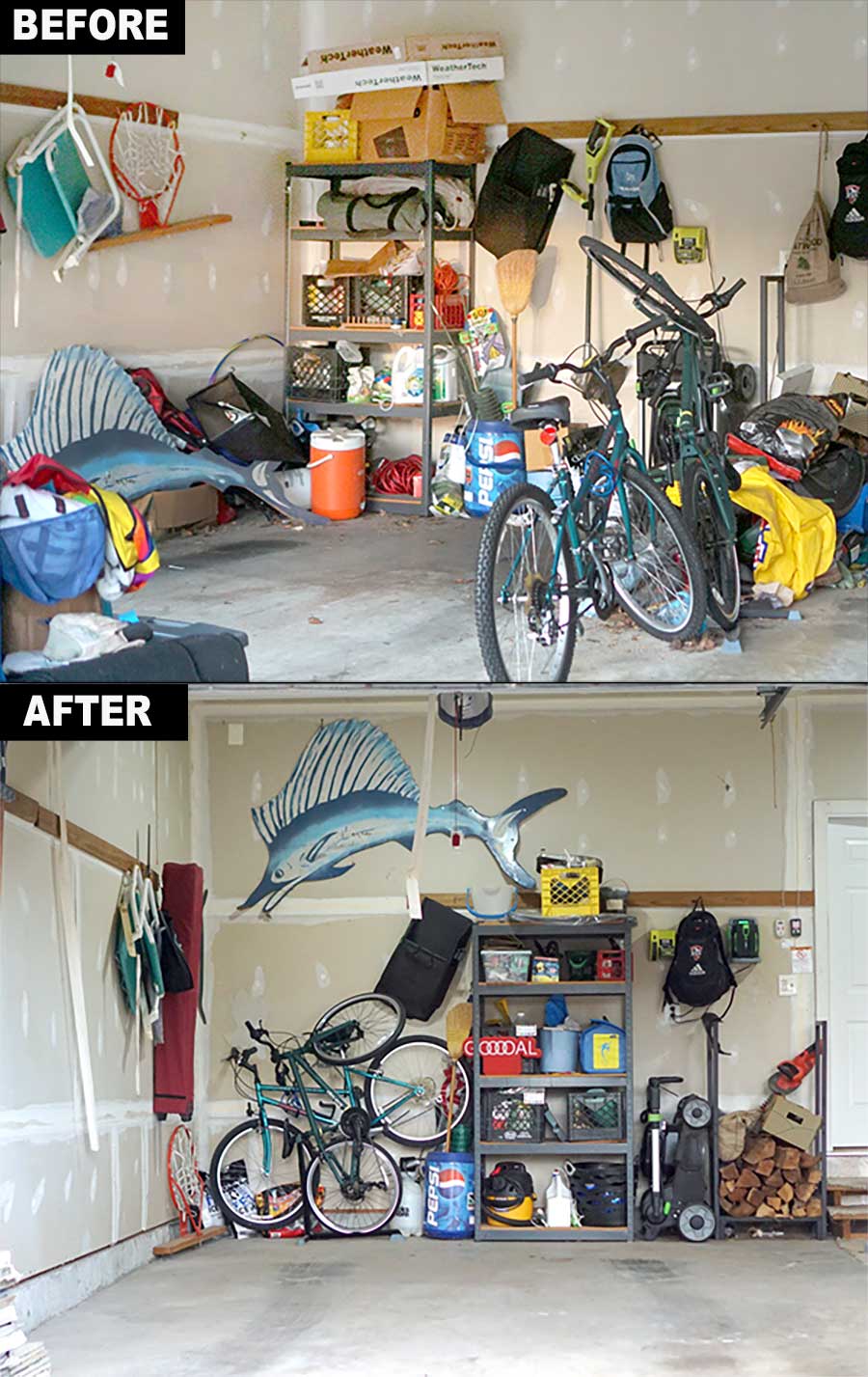 On Sunday I woke up and immediately began dreading the work ahead. Plus, I knew a lot of our stuff would end up in the landfill—a big reason behind nearly all the clutter in my house (the garage is just part of the problem). And, sure enough, Wendy immediately got out a popup bin and lined it with an enormous trash bag. By the time we were done, we had filled it three times.
But she also assembled several cardboard boxes, telling me we'd be putting my stuff in them to help categorize it and see what needed to be hung up, shelved, or otherwise organized. She also filled my driveway with tool bags and strapped on a tool belt—she really was handy!
We created piles and then plowed through. It was easier than I thought to throw away things—we really did have a lot of useless stuff. We sorted donations for her to take to Goodwill, and I boxed up some other things to post as giveaways with my local Buy Nothing group. The work went surprisingly quickly, thanks to Wendy's efficiency.
Once we had winnowed down everything to a "keep" pile, Wendy eyeballed it and began asking me where I wanted to store various items. We put rakes and shovels near the outside door, ladders and golf clubs on the opposite wall, those pesky bikes against the wall in a space made by moving existing shelves, which she reorganized. If we weren't sure of the best spot for something, she'd say, "Let's put it there and see how we like it." If we didn't like it, she moved it.
After six-and-a-half hours we swept up the dust and I danced in the space between our cars. A few days later a neighbor stood inside and said, "I'm jealous! You can open your car doors in your garage."
Mission accomplished.
Lessons Learned:
Be patient when searching for pros. Although it took some time, I was able to find the perfect organizer for me—without having to shell out a thousand dollars or more for her help and hundreds more for a storage system. If a proposal doesn't seem right for your needs, or is too pricey, move on.
Although I dreaded doing the work, it wasn't so bad. Having an outside voice, and another set of hands to dig through everything, made the job far easier.
Take the time to look over what you're holding on to. I was surprised we had so much completely useless stuff scattered around our precious space.
Our house will never be featured in House Beautiful but, after working with an organizer, tossing, donating, and tidying without giving up is much easier now.