Case Study #2: Attic Full of Junk
Last updated November 2017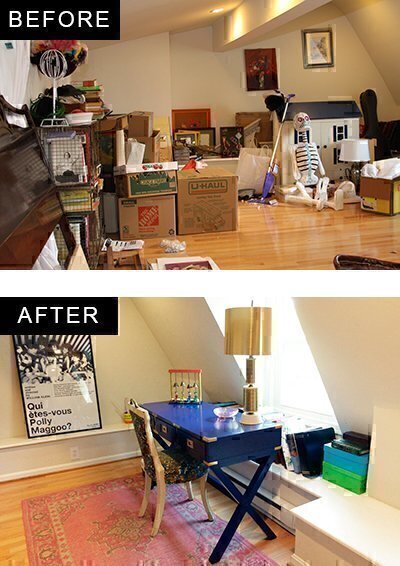 I have skeletons in my attic. Well, papier-mâché ones from Mexico that haunt our living room every Halloween. The rest of the year they lounge up in a finished air-conditioned attic space among countless plastic tubs of family photos, my husband Callan's old Star Wars toys, and, frankly, I'm not sure what else. Since we moved into our townhouse six years ago, the attic has been nothing but chaos, a potentially usable space (I often work from home yet have no home office!) that seems to provoke an argument every time we head upstairs to tackle it. ("Your collection of hats/old dollhouses/ 14 vintage lamps is the problem!" "Well you're a comic book hoarder!")
In an effort to finally reclaim the room, I call in a pro organizer, not feeling very hopeful. Whenever I mention cleaning out things, my husband gets a glassy look and starts mumbling about his large trove of 1990s marching-band cassette tapes. We no longer own any device that actually plays them, but there's a whole box of them up there.
My organizer—let's call her "Ceci"—first comes over for a one-hour consult. She's low-key and not bossy (I expected a reality TV persona who would mock my large piles of old Bon Appetit magazines). She claims she's seen far worse.
As I sit in my dad's dusty old rocking chair, Ceci looks around my attic, asking questions about why I'm holding on to a battered double-bed frame and all those skeletons.
"It seems like you've got a lot of past—like the old cassettes and photos—and the future, but not a lot of room for your present," she says. She suggests I sell the unused bed frame, have my husband digitize the tapes, and that we both pare down the hundreds of childhood books we have on two shelving units. "You need the space if you want to put a desk up here for an office, or if you want it to seem like a room and not a storage space."
Fair enough. Though my husband is skeptical, we devote a Sunday to going through books, finding we're willing to donate or sell enough of them that we can get rid of one whole bookcase. It, and the headboard, go to a friend. Some of those books, and a host of my husband's old Star Wars memorabilia, go up for sale on eBay, where Callan eventually nets more than $2,000! (Who knew a tiny Boba Fett figure would fetch $32?)
I spend several more hours sifting through old family photos and letters, sorting many to scan, and throwing some out. I'm nostalgic, so it's going to take a while to get through the family history and snapshots, but at least I'm on my way. Still, letters from childhood friends I can't remember and photos of relatives I can't ID go in the trash.
By the time Ceci comes back a few weeks later for a three-hour session, the attic looks slightly more "after" than "before." We've given away or sold nearly 100 books, unloaded several boxes of childhood toys, and, most excitingly, bought a pretty cobalt-blue desk for me to go by the window. (There's space now, thanks to the great exodus of paperbacks.) The Bon Appetit magazines have been, after Ceci's first visit, recycled. It felt like being released from cooking porn prison. "You guys are off to a great start," she says.
But then she proceeds to go straight for the only neat part of the attic: a curtained-off closet full of what I think are extra linens. She starts pawing through four or five plastic bins, and at first I'm kind of offended. But she doesn't unearth treasures. Instead we find three extra down comforters (I only have two beds, and they have duvets), unusable upholstery scraps, and a surprisingly large collection of my MC Hammer-like pants from the 1980s. "It's OK to keep one pair for nostalgia," says Ceci. "But are you really doing anything with these?"
Ceci's objective attitude and lack of sentiment for our stuff helps us sort through much of the rest of the attic—and focus on things we hadn't glimpsed in years. A broken VHS player, Boy Scout badges from my Webelos-dropout hubby, 10 of my late father's t-shirts ("Keep just your favorite one!" she urges) all go into the donation or trash pile. The three of us shuffle through, clearing floor space and grouping scattered items into some of the bins we're emptying. Framed art goes into one labeled "to hang or donate," skeleton decorations go into a box labeled "Halloween." It's not rocket science, but having another person there (with a Sharpie and labels in hand) makes the mess seem more manageable.
After three hours (what Ceci says is a pretty typical session), our attic looks more like a room than an exploded yard sale. "It's important to think about it as a usable space, and not to start shoving things up here without thinking anymore," says Ceci. She leaves us with a list of homework, including scanning family photos into folders organized by decade and person, putting my art supplies away on the remaining bookshelf, and, finally, pitching our 20-plus-year-old cassette tape player.
But the skeletons? They stayed, but they now survey a far neater space.

Cost: $315 for 4.5 hours of consultation and work

What We Learned:
Because my husband and I are disorganized, having an outside voice helped us dig through our stuff and make it more orderly.
Things that belonged to your deceased relatives can be sentimental treasures or just more junk for you to store. Winnow your stash down to things that make you smile or cry, or that you want to display. Give away or sell the rest and know that Grandma's teapot will please another person.
Repurposing one junked-up space can motivate you to clean up your act for good.