Finding a Good Shoe Repair Shop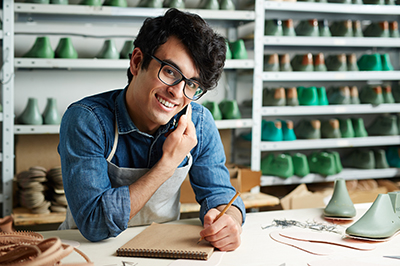 Our ratings tables will help you find a sole mate. We evaluate area shops for quality and price.
What Do Their Customers Say?
Our ratings tables report how area shops were rated by their surveyed customers. These ratings come from our surveys of area consumers, which were primarily Checkbook and Consumer Reports subscribers, but also other randomly selected consumers we invited to participate. We report scores for shops that received at least 10 ratings.
In our survey, we ask raters to judge shops as "inferior," "adequate," or "superior" for questions such as "doing work properly," "starting and completing work promptly," "letting you know the cost early," "advice on service options and costs," and "overall quality." Our ratings tables show the percent of each shop's customers who rated it "superior" (as opposed to "inferior" or "adequate") on each question.
The ratings indicate that many shops do great work almost all the time: Several were rated "superior" for "overall quality" by more than 95 percent of their surveyed customers. But a few were rated "superior" overall by 65 percent or fewer of their surveyed customers. Click here for further discussion of our customer survey and other research methods.
Can I See Some Finished Work?
Before risking your own shoes, ask to see some finished pairs. If your job is a common one, the shop should have samples of repaired shoes on hand. On resoling jobs, check for the points noted above. And for any task, see if the shoes' trimming, stitching, dye-matching, and other features make the repaired shoes look good enough to wear.
Can You Communicate with the Repairperson?
Some shops (especially those at drycleaners) don't do their own repair work, or at least not on the premises. This means one-hour service is impossible, and it may also be difficult to communicate specific fixes like a dye job or fixing a sandal strap.
What's the Turnaround?
Some shops are set up to do work more quickly than others. If speed matters, get a promise before you drop off your shoes. Shops' scores on the "promptness" question of our customer survey will be helpful here.
How Much Will It Cost?
For simple, standard jobs (new soles, new heels), shops should have fixed prices you can find out by phone or email. For more unusual jobs, if the first shop you visit quotes a price that seems high, go elsewhere for more estimates—prices can differ dramatically (see the table below).
On our ratings tables we report price comparison scores. These show how each shop's prices compared to the average shop's prices when our undercover shoppers checked prices for nine common jobs. Price comparison scores are adjusted so that the average score is $100; a score of $90, for instance, means that the shop's prices were 10 percent below average.