Tile Installation Tips
Tiles used to be laid in a thick bed of cement, a time-consuming process called a mud set. The jobs were solid and durable; before the tiles or grouted seams could break, the entire floor had to break.
Spreading adhesive in ribs with a notched trowel, called a thin set, has replaced that system. It's faster and less expensive but, because houses move, not necessarily better—flexing floors and shifting walls are enough to eventually crack or buckle tile work.
Good tile contractors know that the floor—or wall or kitchen counter—has to be rock solid. They may even spend more time preparing a strong surface than laying tile. But that's just one of many factors determining job quality. The surprisingly large number of negative ratings and comments we receive from consumers in our surveys of tiling contractors indicate that many area installers should throw in the trowel.
To get your money's worth, and a job that looks good and lasts, here are tips on tiling—from finding a good contractor to checking the finishing details. Want to DIY? There are a zillion YouTube videos offering instructions.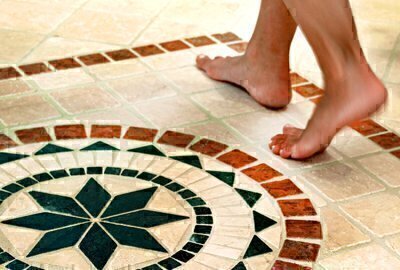 Look for experienced contractors with satisfied customers. A good contractor can turn shaky floors and other problems into a successful, good-looking project, while a bad contractor can turn the best raw materials into a disaster. Check our customer ratings and reviews of area tile installers to identify good candidates.
Get several bids. Our undercover shoppers found big price differences when they got bids for a simple bathroom-floor tiling job—from about $1,000 to more than $2,250. The lesson: Get at least three bids, providing each contractor the same details. Tell them the tile you want (manufacturer, size, color, grade); type of grout; and any needed sealant. And supply a precise drawing with measurements of the to-be-tiled space.
Ask for details. Do they foresee any possible problems with your job? What prep work will they do? How will they cover seams where one type of flooring meets another, such as in a doorway?
Compare proposals. Confirm that the basics about materials and square footage are the same in each bid; then look carefully to see if there are any differences. You want to make sure that all parts of the job are priced and minimize unknown extra charges that might get applied later.
Get a guarantee. What happens if cracks appear in your kitchen floor within six months? Good installers will offer a written guarantee of workmanship that lasts for more than a year.
Ask about layout. Tiles look best when centered on the floor or wall with equal partial pieces around the edges. But there are exceptions. If there is one prominent open wall, and another mostly concealed by furniture, consider using full tiles on the open wall and burying cut pieces under chairs and bookcases. In kitchens and baths, you might use full tiles along the most visible wall and relegate cut pieces to recessed toe-space below cabinets. When walls aren't square, partial tiles along a skewed wall will be uneven—each one slightly bigger than the next. The wall you see most should get the square pieces.
Get proof of licensure and insurance. All home contractors should carry liability and worker's compensation insurance. In some areas a contractor's license is also required.
Get it in writing. Ask for a written fixed price; a simple letter of agreement will suffice. It should include details on the tile and grout, plus a description of prep and finishing work they'll perform, plus business name and address, insurance information, license number, estimated starting and completion dates, and payment schedule. Avoid a large down payment; by withholding payment until completion, you get to say when the job is finished.
As work commences, check for these obvious signs of trouble:
Crooked tiles—Even if your walls aren't perfectly plumb, tiles should be laid in precisely straight lines.
Uneven surfaces—Again, the underlying surface might not be even, but workers should prepare them so that the new tile is.
Weird placement—Best practice is to draw a layout in advance and then follow it.
Ghastly grout—Are lines straight, spaces between tiles equal, and application of grout neat? The narrower the grout lines, the better—some contractors try to hide lousy work with wide swaths of grout.
Transitions—Check how installers handle spots where tiles meet different surfaces—say, in doorways. There should be a nearly seamless even connection.
Cuts—Where tiles are cut to accommodate plumbing fixtures, pipes, and electrical boxes, the cut edge shouldn't be visible.