Tips on Choosing Tiles
Last updated December 2016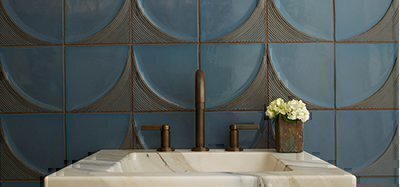 Whether you need to cover a kitchen backsplash, redo the floor in your powder room, or pick finishes and materials for an entire house, tile is a big part of many remodeling projects. But walk into a tile showroom or home improvement store, and you may be overwhelmed with options. Cement or porcelain? White or off-white subway tiles? Glass tiles etched and painted with songbirds or a marble mosaic that looks straight out of Pompeii?
Ceramic tiling started in the Middle East, spread to Rome and its colonies, and by the 11th century, became popular in Europe (think those bright tiles in Spain or Portugal's signature blue-and-white beauties). Many tiles are made from clay which has been shaped and dried, then fired in a kiln at very high temperatures, which make it hard. To get a glossy finish, tiles can be glazed and fired again. Unfinished tiles are also sold, but they come in a limited range of colors. Other tiles are made of natural stone—marble, travertine, limestone, etc. There are even styles made of metal or leather, but their uses are more decorative than practical (think a metal tile backsplash or leather wall tiles in a study), since they're not a good match for water.
Which tile you choose depends on your budget, your style, and how you need your space to function. Here are a few ways to make picking hard surfaces easier.
Get Tile That'll Wear Right
You wouldn't don thin long johns to ski down a mountain, so don't pick tile that's too easily scratched or permeable to cover your walls, floors, or countertops. Most tile store staffers can advise you on which tiles fit certain spots. For example, those frosted green glass tiles may look gorgeous, but you may want to save them for your cucina backsplash, not a high-traffic floor where they are likely to crack. Marble boasts classic shine and luminosity, but know it can stain and crumble if it's installed on kitchen counters. You can also ask about the Porcelain Enamel Institute (PEI) rating guide, which rates tiles on a traffic-ready scale of 1 to 5, with PEI 1 tiles (e.g. an etched glass tile) only recommended for indoor wall usage to extremely durable PEI 5 tiles that you can use outdoors or in highly used industrial settings. Most boxes of tile are labeled according to their best usages, too.
Material Whirl
What your tile is made of is largely a matter of personal preference and budget. Crave a sleek, contemporary look? Consider larger, slab-style marble tiles for a bathroom wall and floor. Craving a rustic-style kitchen? Encaustic (cement) tiles in a Med-cool print could summon a welcoming vibe. You can even find leather and metal tiles, though the former are not suited for rooms with dampness or for most floors.
Keep it Current or Classic
Tile styles, like other household finishes, change more quickly these days thanks to Pinterest, blogs, and a design-hungry populace. It's helpful, when choosing what to install, that you be up on what's current, especially if you plan on reselling in the next five to 10 years. A few things to know: Foot square tiles aren't as common as they were in the 1980s and 1990s; now you're more likely to find 1920s-throwback penny mosaic tiles, four-inch hexagons or even jumbo-sized rectangles (18 by 36 inches!) meant to mimic wood plank floors. And if your taste leans toward traditional, or you live in a historic house, sticking to tried-and-true styles (think what you'd find in Grandma's bathroom circa 1920): like black and white basket weave styles, subway tiles (nope, they aren't going anywhere despite their ubiquity).
Think About Budget
You can spend a lot on tile (some mosaic styles at haute showroom Ann Saks cost over $600 a square foot) or a little (subway tiles can run as little as 77 cents apiece at Home Depot). Many inexpensive tiles look terrific when installed well; some expensive styles (mosaics, rare marbles) might be worth it in smaller areas or if you really want a design punch.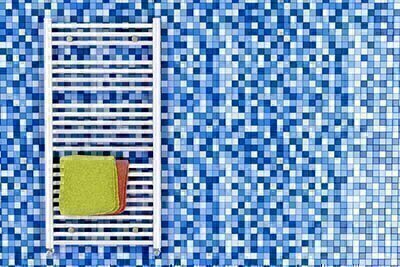 Slip-Sliding Ways
Some floor tiles get slippery when wet (a potentially dangerous issue in kitchens and bathrooms). Untreated marble styles can be particularly treacherous, and the larger the size of your tiles of any kind, the higher the chance they'll make you go head over heels in a bad way. The industry uses two measurements: the SCOF (Static Coefficient of Friction) and the DCOF (Dynamic Coefficient of Friction). You'll want a SCOF score of .6 or greater and a DCOF score of .42 or greater. Or, you can also usually just look on the box of tile or ask a store pro for help; you need a tile that is suitable for floor applications. And smaller tiles are also a good way to combat slick surfaces—the larger amount of grout makes them, for lack of a better term, grippier.
Considering Color
Tiles come in as many colors as J Crew sweaters now. If you like bright red or neon green, there's probably a style you can buy or special order. But before you install an all-pink bathroom, think about whether you'll tire of its "Legally Blonde" vibe in five or 10 years. Classic colors—whites, grayish veined marble, black and white basket weaves—have a longer shelf life and are better for resale. And much like in fashion, mixing neutrals and brights can have a dramatic effect: Think gray marble floors in a kitchen with a rainbow-colored, Mexican-tile backsplash.
There's a Match for That
You can tile a whole kitchen or bathroom all in one style of tile. And it's currently cool and minimalist to use so-called slab tiles—oversized rectangles or squares (e.g., a 24" by 24" marble rectangle) to get a sleek, modern look on both the wall and floor, particularly in the loo. But mixing your materials—diamond-shaped tiles in gray on the kitchen floor, marble subway tiles in a herringbone pattern on the backsplash—adds visual interest and panache. When combining tiles like this, it's helpful to think of what'd make a nice contrast, say a scalloped, fish-scale style floor and square tiles on the wall in a bathroom. In general, if you're using a special shaped tile—a hexagon, a diamond, a penny tile—on one surface, you want to stick with a simpler square or rectangle on other surfaces in the room.
You'd Better Shop Around
When you zero in on a type of tile, be sure to check at least three sources on pricing. We found prices ranging from $1.76 per square foot to $5.34 per square foot for Daltile's 3" x 6" subway tiles.
Size Matters
Scale matters, too. Smaller tiles—2 by 3 subway styles, penny tiles—can create a lovely effect in a wee powder room. In a larger space, say a basement den, large wood-look tiles could mimic wide oak flooring.