Kitchen Appliance Trends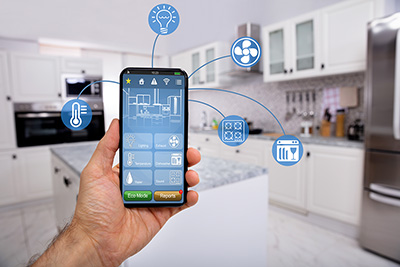 While stainless steel fridges, dishwashers, microwaves, and the rest aren't (yet) obsolete, kitchen appliances continue to evolve due to new tech and changing styles and because manufacturers and retailers need reasons to convince you to replace perfectly functional units or splurge on, say, a restaurant-quality range with six burners that costs five figures.
Here's some of what's new and notable:
"Smart" Appliances
Some new fridges can draw up your grocery list for you (with help from creepy interior cameras and/or scanners). The entire idea seems ridiculous, and models with these types of features are a lot more expensive—sometimes thousands of dollars more—than ones without all the bells and interactivity. On the other hand, there are some useful "smart" functions built into some stoves and dishwashers that let you operate them via mobile app.
Steam Ovens
True steam ovens let you cut the fat from the ingredients of many dishes by humidifying hot air, which keeps foods from drying out. Most steam ovens can also harness steam to cook sous vide dishes and self-clean. Convection steam ovens (or microwaves) combine the circulatory powers of convection with steam. Steam ovens and their convection relatives cost more than barebones ovens or microwaves, and there's a learning curve to operating them. But their fans generally rave about them, especially for reheating leftovers.
Stainless and Then Some
Stainless steel remains the favorite finish for appliances. Customers like its hard-to-smudge surface and gleaming looks. But so-called black stainless, a kind of gunmetal-ish blackish hue, is also showing up in many projects and stores. It's priced about the same as regular stainless—about 10 to 25 percent higher than simpler black or white appliances. Other newer finishes include slate, a matte black that mimics the look of blackboard paint, and muted bronze. And simple black and white appliances have made a minor comeback, as they add contrast to kitchens with gray or colored cabinets.
Also new and popular: colorful stoves and fridges, usually in a high-gloss blue, red, or even Kelly green. Most often, a homeowner or designer picks one "statement" appliance (usually a range) in a bold hue, keeping other pieces neutral. This option tends to be available only in higher-end models, but it's something we expect to trickle down to less expensive styles over the next few years.
Keep Them Separated
Kitchens have grown jumbo-sized in recent decades. That's probably why manufacturers are producing separate icemakers (some make custom-sized cubes), freezers, and pizza ovens. You probably don't need any of these specialty appliances, and many are quite expensive. But they're now available for home pie slingers and bulk-food buyers.
Drawer Scores
A while back, dishwasher drawers (exactly what they sound like) were all the remodeling rage. But many kitchen pros claim they were problematic (leaks, functionality). Drawers definitely are still an option, but these days they are used to store microwaves and as separate warming drawers. Microwave drawer units are significantly pricier than countertop or above-the-range models.
All in the Details
In general, trends are running toward sleek, streamlined pieces. That means less-obtrusive cabinet handles, flush-fronted appliances, and panels that conceal dishwashers and fridges with faux fronts to match your cabinets.
Decorative hardware, mostly on ranges, can add a punch of metallic flair or color to your kitchen. Plus, it's usually a cheap way to make a model look customized.
Expect most new appliances (except maybe icemakers) to be far quieter than their elderly relatives. Dishwashers, in particular, seem to have taken a vow of near-silence. But if you're a real noise-o-phobe, go for one that's 50 decibels or less.
Most dishwashers now hold three adjustable racks, making it easier to squeeze in anything from large pots to a shot glass.
Be Flexible or Be Ready to Wait
If you want all your appliances to match, be ready to wait. Our shoppers found that while some models were in stock and ready for fast delivery, many were on backorder. If you need something fast, you'll have to remain flexible.