Where to Buy Appliances
Last updated in November 2015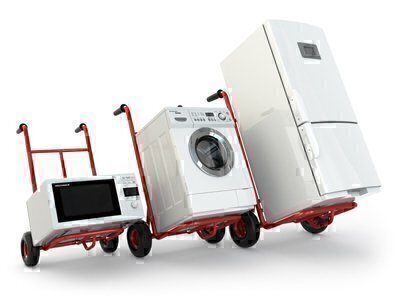 In our appliance repair section, we explain why you might want to repair rather than replace an old appliance. But once you decide it's time to buy a new refrigerator, washer, dryer, dishwasher, or other large appliance, get ready. Unfortunately, many buyers find selecting the right appliance, plus getting it delivered and properly installed, to be a time-consuming, aggravating experience. Equally unfortunate, many stores use fake sale prices to mislead their customers into believing they're getting special deals when, in fact, they're actually paying too much. Fortunately, some area stores usually serve their customers well, and by using our simple shopping tips you'll pay the lowest prices.
Getting Good Advice
We won't offer advice on appliance brands and models and their almost endless array of features. A few excellent sources provide that type of buying advice.
Consumer Reports regularly evaluates appliances on a range of quality issues, including reliability, and offers sage advice on the pros and cons of configurations, designs, features, and options.
The U.S. Department of Energy's Energy Star program provides lists and energy-usage data on certified appliances. We also discuss energy-efficiency issues in our article "Appliances and Energy Efficiency."
Salespeople can also be fantastic sources of buying advice—but only at stores that employ knowledgeable, helpful staff. Unfortunately, as our Ratings Tables report, this is an aspect of service for which many stores—particularly big national and local chains—rated low on our consumer surveys. But our Ratings Tables also reveal local stores with personnel who offer fantastic buying advice: some of the listed retailers were rated "superior" for advice by at least 80 percent of their surveyed customers. Click here for more information on our customer survey and other research methods.
Finding Dependable Stores
Finding a store that provides helpful advice is only half the battle. You also want a store that makes sure the entire transaction is seamless, from selection to delivery and installation.
Unlike buying most other big-ticket items, a lot can go wrong with appliance purchases. If your fancy new camera doesn't work, you can just return it and get a replacement. But you can't easily tote your new defective refrigerator back to the store, plus most consumers need help with delivery and installation. Unfortunately, the customer reviews we receive from surveyed appliance purchasers indicate that delivery and installation are the most problematic parts of many transactions. Delivery crews too often damage floors and doorways, and workers frequently cause water damage and even floods by improperly installing dishwashers and clothes washers. Screw-ups in the installation of gas appliances are common and nerve-wracking.
Fortunately, some area stores do have competent installers. And aside from relying on a store's employees—or, more commonly, its subcontractors—for installation, you have other options for getting the work done.
If you need to buy appliances as part of a larger remodeling job, your contractor can (and probably should) arrange for delivery and handle the installation. If your contractor is responsible for these tasks, you can hold a single company accountable for making sure appliances arrive on time, get delivered without damaging your home, fit the allotted space, are installed correctly, and operate properly. This arrangement lets you focus on getting the best price (see below), rather than worrying about the kind of service the store will provide. Keep in mind, however, that asking a remodeling company to manage delivery and installation is different from letting it buy the appliance, too. Nearly all remodelers will provide that service; in fact, some insist on purchasing it themselves. But they won't necessarily look for and find the best price; and even when they do, many will mark it up.
Another option is to install the appliance yourself. While some stores fold installation costs into their listed appliance prices or delivery fees, most charge extra. And even stores that charge a single package price normally offer a discount if they handle installation.
If you're thinking about going it alone, be aware that not all appliances are created equal. For some, there's very little to do. After you've wrestled in a several-hundred-pound refrigerator, it's easy enough to plug it in and connect a water supply line for the icemaker. Ditto for an electric clothes dryer connected to a functioning circuit; connect the cord and it's ready to roll. But installing a dishwasher or a washing machine can be fairly complicated, even if you're reasonably handy.
Most consumers do opt to pay appliance stores to take care of delivery and installation. If you go this route, make sure you understand exactly what stores will and won't do. Some won't touch gas lines; others won't hook up water supply or discharge lines, meaning you'll have to hire a plumber to perform those tasks.
If you aren't relying on a remodeling contractor to manage delivery and install the appliance, you're better off finding a store that employs reliable installers and have it do the installation, rather than separately hiring a plumber to do the job. That way you get to deal with a single company responsible for providing the appliance, delivering it, installing it, and hauling away your old unit. You save time (by not waiting around for a store to deliver and then for a plumber to show up), and if something goes wrong you won't have to referee a store-vs.-plumber dispute over who screwed up.
The ratings shown on our Ratings Tables for our survey questions on promptness, reliability, and overall quality will help you identify stores that deliver on time and make things right when there's a problem.