How to Assess Furniture Quality
Last updated November 2019
How can you get furniture that'll survive pets, kids, spills, and normal wear at a good price? Start by choosing a store with high ratings for advice and reliability. But it helps to know how to assess the goods on your own. One way to start honing both your knowledge and style? "Visit high-end furniture stores, and leave your credit card at home," says Amy Azzarito, a design expert and trend consultant who recently published her second book on furnishings, The Elements of a Home: Curious Histories Behind Everyday Household Objects, from Pillows to Forks. "It's an opportunity to educate your eye and figure out what you really like. It can be helpful to take photos and even write down some of the item's descriptors."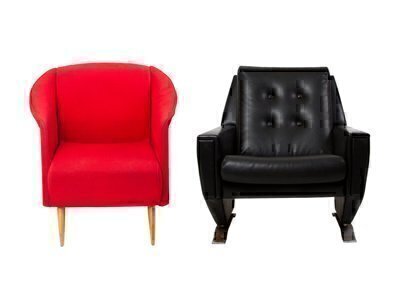 You can also read customer ratings of many individual products online (easiest with brand-name pieces or items from big-name stores like Room & Board, Crate & Barrel, and their ilk, though not all retailers allow customer comments). As with any consumer opinions, keep in mind one person's "ugly color, too modern" is another person's dream sofa. And look for comments on verified purchases only, so you know raters actually bought that dining room buffet or brass globe lamp. You'll also still need to, where possible, inspect and test furniture in each store.
And if you're on a budget, you'll want to know if lower-quality items are priced accordingly. The signs of quality described here might sound pretty technical at first, but as you visit stores and look over things, you'll get a feel for quality.
There are two broad categories of furniture: upholstered goods and "case" goods—basically the hard stuff: tables, desks, dressers, bookshelves and such. Here's what to look for:
Upholstered Furniture
The most important indicator of good upholstery is comfort. Test this by sitting on a piece for a few minutes. Then check the underlying construction and ask the retailer for a manufacturer's catalog or other materials to figure out what's inside.
Frame
Arms should not wobble.
Sofa frames should be rigid, and not creak or sag when you lift one corner off the floor.
The top frame construction should be solid pieces of kiln-dried hardwoods joined with "dowels" (wooden pegs) and reinforced at their corners with glued-in, screwed-in blocks.
Springs and Padding
The entire frame should be covered with padding, meaning no hard corners during your sit test. There shouldn't be any lumps or bumps either. Quality padding improves upholstered pieces' appearance and comfort, and greatly reduces wear.
Look for "hand-tied" coiled springs. So-called "eight-way" construction provides the firmest seat. You also don't want springs to compress so much that you feel the frame when you sit. Also, pick up the cushions to be sure the springs underneath are covered with padding.
Cushions
Reversible cushions last the longest, since they have a second surface if the first becomes dirty or worn.
Top furniture cushions are filled with solid pieces of high-density foam, but springs, down, and synthetics are also good. Avoid cushions filled with shredded foam; they won't retain their shape.
The foam, or spring core, should be wrapped with polyester fiberfill or a similar product to soften edges and improve wear. Each cushion should be covered with a fabric liner, or ticking, beneath the upholstery.
Fabric
Tightly woven fabric (say, a tweedy polyester or cotton velvet), wears better than thinner cotton. Look for a high-thread-count per inch rating for pieces that will see a lot of use plus threads that don't slip or separate under pressure.
Natural fabrics used to be the gold standard; long-wearing, stain-resistant polyesters and blends can now look and feel just as good, often for less money.
Other warning signs of cheap fabric: prints that come off or material that pills when you rub it; lining that shows on the fabric surface.
Trim
Fabric should fit tightly around the frame and padding.
Look for well-finished pieces: straight seams and welting, secure buttons, cushions with zippers at their backs.
Patterns and stripes should be centered, match at seams, and line up on the entire piece of furniture. With custom upholstery, find out whether the manufacturer guarantees alignment.
Case Goods
It is somewhat easier to judge the quality of case goods than of upholstered items because you can see how they're constructed. Still, changing technology means things that look like real wood can be cleverly disguised particleboard. "It's not unreasonable to ask questions about what materials are and how things are constructed," says Warren Shoulberg, a furnishings industry expert.
Drawers
Drawers should fit snugly, opening and closing effortlessly. "You get a good idea of this with a floor model, since it will be getting the kind of wear and tear you'll give something at home," says Shoulberg. "If a desk drawer doesn't close tightly and easily in the showroom, run away quickly."
The sides of high-quality drawers are joined to the front and back with dovetail joints (one piece fits into a series of flared slots on the other). Avoid drawers in which the side pieces are just butted up against the front and back.
Side and back panels of drawers should be made of wood at least a half-inch thick.
Drawer bottoms should slip into grooves in the drawers' sides. The bottoms should be strong enough so they don't give significantly when pushed down.
The insides of drawers should be smooth, with nothing to snag fabrics.
Dust panels between drawers are a sign of quality, adding strength to the furniture and keeping clothes from getting snagged.
Furniture should be constructed with stops to prevent drawers from being accidentally pulled out too far.
Test drawers to make sure they are real, not false fronts.
Doors, Top Lids, and Flip Tops
Doors and other hinged pieces should swing smoothly and quietly, close easily, and latch snugly.
Insides of doors should be finished.
Inset glass panels should fit tightly so they don't rattle.
Long cabinet doors should hang on piano hinges running the full length (or nearly that) of the door.
Legs
Furniture should not wobble or rock.
In high-quality chairs, the arm and leg or back and leg are often made out of a continuous piece of wood. Legs are stronger if they're built into the frame, too.
Stretchers (pieces of wood connecting two legs near the floor) add strength.
Finish
The finish should feel smooth with no cracks, bubbles, or streaks of glue.
Grain patterns and coloration should be similar on all drawers and doors, and should blend with other areas.
Joints should be tight, with no visible space or filler material.
Check whether the piece is solid wood or veneered. "Veneer finishes, often over MDF [medium-density fiberboard], can get discolored, and they often have weaker joints," says Michele. "Hardwood furniture lasts longer."
Other
Hardware should be substantial, smooth, and firmly bolted from the inside.
In better cabinets, desks, and chests, the back panel is inset and screwed into place, not nailed or tacked on.
Joints that receive stress should be strengthened with corner blocks.
Dining room-table leaves should be easy to insert, fit flush, and match the tabletop.
Large pieces should be fitted with leveling devices.
Most stores and manufacturers have outsourced production to China and other countries. This isn't always bad, but know that the often-lower resulting prices might mean higher shipping costs, longer waits, and putting American makers out of business. And in the case of upholstery, particularly custom, you'll pay similar or just-slightly-higher prices for U.S.-made goods and have easier, quicker recourse if you receive a defective wing chair or pre-stained sofa.