Working with an Interior Designer
Last updated in November 2016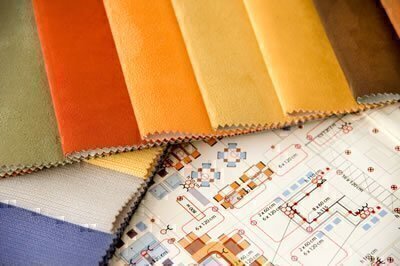 If the job of decorating your home—not only with furniture but with floor and wall coverings, artwork, and other elements—seems too big for your available time, know-how, or artistic talent; if you want the benefit of someone else's ideas; or if you want access to furniture choices available through wholesale showrooms not open to the public; consider using an interior designer.
You can use a designer employed by a store or hire an independent designer. You can hire a designer for the whole job, from developing a design concept to purchasing and supervising installation of the furnishings. Or you can hire one for a two- or three-hour consultation to provide new ideas and perspectives. But even if you hire a designer for the full job, you can remain thoroughly involved. You'll need to meet with the designer regularly to review plans, fabric samples, proposed furniture pieces, and other design elements.
The cost of hiring a fully trained independent designer to redo a living room (including furniture plus design fee) is typically more than $20,000. But it can cost considerably more or considerably less depending on the room size, quantity and quality of items purchased, and the designer's fee structure. Although some independent designers won't accept clients who aren't prepared to spend in this range, others are willing to work with much more limited budgets, and most understand that you might want a plan now and spread out actual purchases over many months.
Although some store-based designers offer limited service, some provide fairly extensive services, including drawing floor plans, advising on color, and ordering furniture. Different stores' design departments use different payment formulas. At some stores you pay a small design fee, which is returned in full if furniture purchases exceed a certain dollar amount. You purchase items through the designer at the store's current prices, including sale prices. Other stores' design departments may charge on a per-hour basis—or charge a flat fee for a consultation and additional hourly fees for other tasks, such as writing up purchase specifications. Stores may waive the fee if your purchase is large enough. Since arrangements vary so widely, check with stores to find what services they offer and how they charge.
On our Ratings Tables for furniture stores, we report which stores told us they offer in-home design services. You can get customer reviews of individual designers and design companies here.
Independent designers also charge according to a variety of formulas. A few charge no explicit fee but retain the difference between the discounted price they pay for your furnishings and the "retail" price—typically double what the designer pays. More commonly, designers charge a flat fee or hourly fee, and may also add a markup to the items purchased.
Because the client pays one way or another, we favor an arrangement in which all or most of the designer's compensation is based on a flat fee or hourly rate. Such arrangements make the cost explicit, don't incentivize designers to encourage you to spend more than necessary, and avoid the tension that can arise if you spend less than the designer anticipated.
Despite the discounts available to designers, buying through a designer means you will probably spend more than if you bought the same products on your own at one of the area's best-priced stores—even if the designer charges on a fee basis and passes along his or her discount.
To get the most for your money from a designer, choose the person carefully. Start by soliciting recommendations from friends whose taste you admire, or from homeowners whose furnishings you admire when you take house tours.
You can also receive referrals from the American Society of Interior Designers (ASID). ASID membership is a meaningful credential. Full "Professional Members" must complete an exam that lasts more than 10 hours and includes both written and practical components. Before taking the exam, a designer must meet specified standards. For example, one basis for eligibility is completion of a four- or five-year college degree program with a major in interior design plus two years of experience.
Meet with any designer you are considering. Talk about your lifestyle, needs, and tastes. If you don't feel comfortable enough with the designer to talk about budget limitations and occasionally reject his or her suggestions, then this is not the person for you. Ask to see samples of the designer's work—either photographs or, better still, the homes themselves.
Be specific about your total budget and discuss the designer's fees. It's reasonable to negotiate fees.
Finally, compose a letter of agreement spelling out your understanding of the specific services the designer will perform (which rooms will be furnished, whether shopping is included, and whether tradespeople will be supervised), how fees will be calculated, and whether the designer will retain any portion of the actual price paid for purchased items.