Save Money and Stay Comfy with This Airport Parking Hack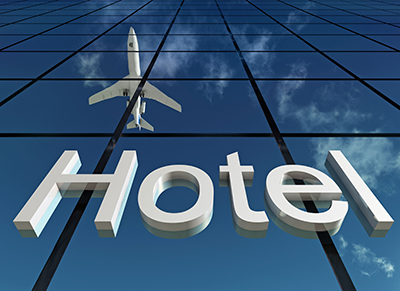 The pandemic continues to affect the travel industry in drastically different ways. You can still find great pricing from airlines and hotels eager to add bookings. On the other hand, you'll find mind-bogglingly steep rates for most rental cars. (That's because car rental companies sold off their idle fleets during the height of COVID-19 and now can't buy enough new cars due to auto production problems.) Many cruise ship operators navigate constantly changing government port-access requirements. And in many areas, after many drivers quit their gigs, it remains difficult to book rideshare trips.
If you're ready to again venture out into the world, some of your decisions remain the same. For example: If you have a flight, what's the best way to get to the airport and back home? If you need to park your car at an airport for more than a few days, consider taking advantage of a park-and-fly offer from a nearby hotel. Many include long-term spots for your vehicle if you park yourself in a room overnight pre-flight plus complimentary shuttle service to and from the terminal.
Here's the breakdown for a common scenario: You're planning a 10-day trip, wheels-up at 6 a.m. Parking at Sea-Tac is $32 a day or $149/week. We often find deals at nearby hotels for less than $110 a night that include a room, free shuttle, and parking for up to 10 days (plus free coffee and pastries!). For a 10-day trip, that's about $100 less than the parking fees you'd rack up.
Using a hotel's door-to-door shuttle means you save time and the hassle of getting yourself and your stuff—and if you're traveling with kids, their stuff, too—from a remote airport lot or public transportation to the terminal.
Another perk of bunking at an airport hotel? If you have a crack-of-dawn flight, staying super-close to the airport makes your early morning more bearable. You could also do this in reverse: Park at the hotel, take the shuttle to the airport, and stay at the hotel after a late-evening flight.
To find park-and-fly rates, you might have to do a little more digging than usual to find a good hotel spot. Use Kayak or a similar travel booking site that aggregates prices to identify hotels near the airport; then call to inquire about park-and-fly rates. Make sure there's a free shuttle and that it runs when you'll need it (most offer 24/7 service). Many hotels offer a special rate that includes a set number of parking days, generally at least a week, which can often be extended by the day for a fee.
Unfortunately, we find it difficult to book packages that include parking via third-party booking sites—which is too bad, since (as we've written before) the only way to save a lot on hotel rooms is by booking a prepaid mystery deal through Hotwire or Priceline Express.
Sites like aiportparkingreservations.com and parksleepfly.com let you search for park-and-fly rates—but before booking, check the hotel's website or call it to see what it offers. We sometimes find booking directly with hotels yields better deals.
Of course, if hotel rates are expensive when you're traveling, consider using public transportation or booking a scheduled ride with a taxi or rideshare service, which often costs less than long-term airport parking. You might also find lower-cost parking spots by using BestParking.com or a similar parking search tool.