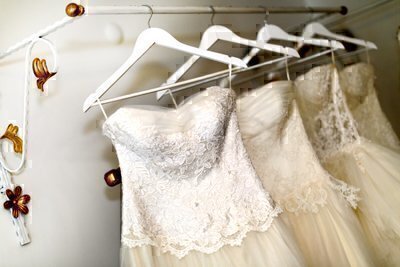 Find a dress. Scout venues. Taste cakes. Buy flowers. Negotiate decades-long familial grudges to arrange seating. Manage brain-melting stress. All are critical tasks when planning most weddings. The seemingly endless list of tasks to accomplish is matched by a seemingly endless number of websites and magazines clamoring to help you with your planning—all backed by vendors clamoring to sell you their stuff and services.
To help you cut through the nuptial noise, we list below our favorite wedding-related websites. Here at Checkbook.org, you'll also find customer reviews of wedding consultants, wedding and bridal shops, florists, photographers, caterers, jewelry stores, tailors, and dressmakers—absent any marketing noise (as you know, Consumers' Checkbook is free of ads and marketing hype).
This is our pick among the handful of mega-sites (others include TheKnot.com and MyWedding.com) and a great first stop on your wedding-planning journey. Like the other sites, WeddingWire.com offers help and advice on just about everything: checklists; seating-chart builders; budgeting tools; forums on fashion; reviews of honeymoon destinations; links to major retailers for creating gift registries; etiquette pointers—you get the idea. But this site's organization and content seem a cut above the others. You can also use the site to build your own wedding website to share with guests. One feature we love is its huge database of song suggestions for all parts of the ceremony and reception, with lyrics and links so you can listen directly from Amazon and iTunes, plus comments about the songs from other couples.
This site lets you look at photos uploaded by newlyweds and then quickly connect with the vendors who did work you like. Love those unique hydrangea centerpieces from a wedding near yours? Click to connect with the florist who created them. Found the perfect dress? Click to get info about the store that sold it. The site is searchable by location, making it especially useful for drafting shortlists of venues and vendors if you're planning a wedding from afar. Another benefit: It helps you access small-town and under-the-radar vendors you might not learn about elsewhere, such as quaint bakeries, dressmakers who work from home, and photographers who don't have large advertising presences.
Wedding-Spot.com helps you overcome the potentially biggest challenge in the wedding-planning process: finding the right venue. The site lets you filter search results by style (vintage/rustic, modern, etc.), guest capacity, location, and budget, and then lets you compare candidates by checking profiles typically loaded with photos and descriptions of features. You can also use the site to make appointments to tour venues.
At the time of this writing, the site unfortunately didn't yet list venues in this area, but it is quickly adding regions and still useful if you're planning a wedding elsewhere.
Given that most of us are tethered to smartphones, many of your wedding guests will chronicle your wedding and possibly your engagement party, shower, and other pre-wedding festivities. GuestShots.com allows them to upload the photos and video they take to a central password-protected site where you can share what you want to share, delete what should never have been uploaded, and order prints, DVDs, albums, and other keepsakes. While most couples wisely won't trust friends and relatives with documenting their weddings, GuestShots.com lets them supplement the images captured by professional photographers—and possibly provide blackmail fodder against guests who make poor choices on your special day.
Always a bridesmaid, never happy with the dress. Most former bridesmaids report that gowns that cost them hundreds of dollars were never worn after the wedding. LittleBorrowedDress.com—with the brilliant motto: "Your friends are forever...but their bridesmaids dresses don't have to be!"—offers dress rentals in the $50 to $75 range. A bride registers with the site, chooses from among 10 dress designs, each available in 18 hues, and then sends her choice to each of her bridesmaids for them to enter measurements and finalize the order. The dresses arrive with a prepaid UPS envelope in which bridesmaids can return their dresses on the Monday after the wedding. And if the bride's impeccable taste makes any of the bridesmaids want to keep her dress—or a bridesmaid doesn't like the idea of wearing used clothing for a day—she can buy it.