Many retailers will match competitors' prices. Consumers' Checkbook gathered the price-matching policies for large chains and put them to the test! Our mystery shoppers found out how much they could save and how easy it was to get stores to comply with their policies.
We've all done it: You want a new TV, appliance, tennis racquet, power tool, pair of shoes, or jeans. You visit a local store to try out or try on various options. Then you bolt and buy it online for a lower price. Retailers call it "showrooming," and although estimates vary wildly, for big-ticket items some studies suggest 30 to 50 percent of online shoppers started their spree at local stores.
Many chains battle showrooming by offering exclusive products that you can't buy elsewhere. Many independents battle it by employing sales staff that offer great service and buying advice. But the real hurdle for everyone is price: Consumers slink out of stores to buy online because prices are usually lower there.
There are dozens of smartphone apps that help shoppers compare prices while shopping in-store, including ShopSavvy, Purchx, BuyVia, and PriceGrabber. Amazon has integrated its own price-checking app right into its mobile website. Use one of these apps to scan the barcode of a product at a local store and it'll show you prices offered by online retailers.

Several big chains, including Best Buy, Target, and Walmart, are now trying to discourage showrooming by offering to match lower prices offered by their competition, even if it's online giant Amazon. We found more than 30 large national chains that have some form of price-matching policy, but note that some aren't worth much. The table below reports the policies of more than 50 large chains. The policies for the most part break down into four categories:
Stores that price-match local competitors' in-store or online prices plus specific online retailers. At these stores, you can ask for a price-match if you find a lower price locally or online. For some stores-Bed Bath & Beyond, Best Buy, buy buy Baby, Staples-the list of eligible online retailers is short. But several chains price-match a wide variety of online-only competition, and almost all will price-match Amazon.
Stores that price-match local competitors' in-store or online prices, but not those offered by online-only retailers. Home Depot, for example, will match Lowe's prices, whether in-store or online. Home Depot's policy is somewhat unique in that it will not only match these prices but add a 10 percent discount.
Stores that price-match only local competitors' in-store prices. Lowe's, for example, will match Home Depot's in-store prices, but not its online prices. (Like Home Depot, Lowe's will match and add a 10 percent discount.)
Stores that have no price-matching policies.
While several of these retailers' policies are quite consumer-friendly, few shoppers actually take advantage of them. Most shoppers are probably unaware that these price-matching policies exist at all. While Target and Walmart have done a bit of outreach, no store loudly broadcasts the availability of (sometimes far) lower prices to everyone. Even many shoppers who are aware of price-matching policies won't try to use them because they think it's a hassle: It does seem like a pain to research prices online, track down an employee or manager, explain the price difference, point out the store's policy, and ask for the lower price.
But how hard is it? As it turns out, not that hard!
Armed with lists of big-ticket items and low online prices for them, we sent our mystery shoppers into dozens of stores to test their price-matching policies. At each store visited, they asked for-and received-the lower price, which often represented big-time savings.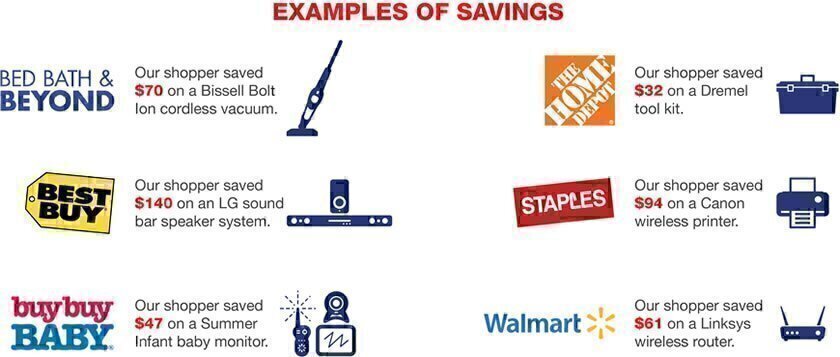 At almost all the stores, our shoppers quickly received lower prices simply by pulling them up on their phones, showing them to store personnel, and asking for a match. We sometimes were directed to customer service counters to complete the transaction, but often the lower price was provided right at the checkout register.
To get a price-match at Walmart, you don't even need to contact a human being. The company's own app-Walmart Savings Catcher-does it for you. After checking out, use the app to scan your receipt; the app checks competitors' prices and automatically sends you any differences via an e-gift card. (If you don't want to mess with a gift card, you can still get Walmart to price match in-store.)
Our testing revealed only a few hiccups, almost all occurring at Home Depot. Our shoppers visited nine Home Depot stores, and workers at all nine had to track down a manager to authorize the price-match. Even after managers finally arrived on scene, our shoppers still found it very difficult to get the store to honor its price-match policy, which is to match local competitors' prices plus beat them by 10 percent. At most of the Home Depots, workers and managers were so unaware of their company's policy that our shopper had to pull it up on HomeDepot.com and show it to them. At two of the nine stores, even the manager wouldn't agree to honor its 10-percent-off offer.
Even the most generous price-matching policies come with limits. The most common exclusions:
Stores that price-match Amazon require that the item be sold by Amazon itself, not an independent seller that lists on the site.
You can't combine offers. Stores won't price-match lower prices that result from using coupons, bundled deals, or members-only discounts. So while Nordstrom will match Bed Bath & Beyond's in-store prices, it won't take into account the savings you'd get from one of its famous 20-percent-off coupons.
Most stores exclude cellphones from their price-matching offers.
The time window of price guarantees is usually only one or two weeks. If you find a lower price a few months after you bought something, you're out of luck.
Most won't match a price if it's identified as a clearance or discontinued item.
Some stores will price-match only exact products, including color options. If a color option is sold exclusively through a chain, it won't price-match similar colors for the same model available online.
Even though it's easy to get stores to price-match, you still might wonder why you should bother jumping through the hoop. Why not just buy the thing online? One reason is that if a salesperson provided valuable buying advice and expertise, you might want to reward him or her with the commission for the sale. Or you may not want to wait a few days (or weeks) for delivery by an online seller. And if it's an expensive item, delivery services may require that you be home to sign for it.
Another reason to take advantage of price-matching policies is if you want to pay Walmart prices, but don't want to shop at Walmart.
You may also want to favor a locally owned independent store. We found that although few independents have written price-matching policies, if asked, some will match competitors' pricing. In fact, if you are shopping for an item sold by independent stores, you might get a lower price for it there than anywhere else if you call, explain you are shopping around, and ask it to bid on the item.
A bad-for-consumers policy enforced by manufacturers of many products is the use of "minimum advertised prices," or MAP. Designed to boost profits and squelch competition for large retailers that have a lot of clout with manufacturers, these policies require retailers to advertise product prices at or above preset minimums. For example, because of MAP, you won't obtain the best prices on most major brands of appliances from online searches or sales circulars. But MAP policies don't apply to prices quoted to customers in person, over the phone, or via email. Stores-particularly independent stores-often quote appliance below-MAP prices if that's what it takes to close a deal.
Finally, don't fall into the "on-sale" trap. The sale prices offered by many local stores and on most websites probably aren't special prices at all. At many stores these sales never, or almost never, end. A nine-month-long investigation by Checkbook found that many stores use deceptive practices, especially when selling appliances. Even if the sign says "Save 60%," it probably is meaningless and is probably not a good deal. The only way to know whether you're paying a fair price is, as always, to shop around.