What's sturdy, beautiful, and capable of both keeping out intruders and holding a holiday wreath? Even though replacing a worn door can provide a quick and effective improvement to your home's look, it can also be an expensive project, with many models costing more than $5,000, including installation. If you choose a high-priced supplier, it'll be an unnecessarily expensive project: Our undercover shoppers found some area companies charge thousands of dollars more than their competitors to supply and install the exact same door.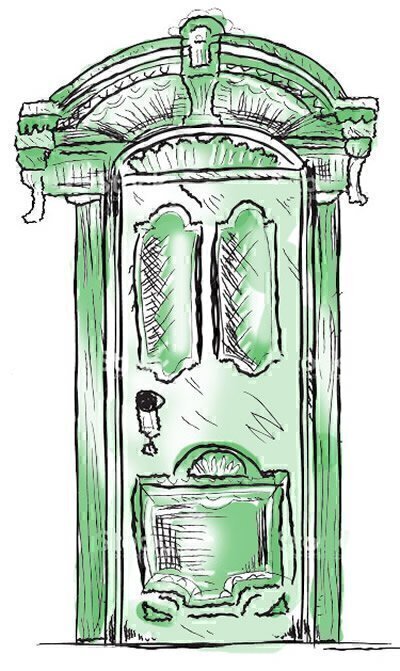 Start by deciding what you want. In the past, your choice was limited to all-wood models, but now you can find doors in fiberglass, metal, and more. You'll also need to decide on size, function, style, hardware, and security features. We discuss the pros and cons of each choice, how to find the right supplier, and share results of our price shopping.
Pre-Hung vs. Simple Replacement
If a door's frame is in good shape, and you don't want to change the size of the opening, you can simply swap in a new replacement door, also called a "slab" or "blank." If the door's surround isn't sound, you're better off buying a frame-door combo, an all-in-one assembly that ships ready-to-install, with doors pre-hung in a frame and jamb, hinges, weatherstripping, and hardware already in place.
While buying just a replacement door is less expensive, the downside is they come in far fewer style and size options, compared to the more common framed-door option. And if you're replacing an old worn door, its frame also probably is in bad shape. So most homeowners buy pre-hung assemblies.
Materials
Wood looks great and offers thousands of style options, and there are multiple stain and paint colors, too. Although today's wood doors are sturdy and resist the elements, they can still warp and crack and periodically need fresh coats of stain or paint. If your entry doesn't have a porch or a protective overhang, don't install a wood door without an accompanying storm door—sunlight and moisture will take a quick toll on even the best all-wood models.
Steel doors are framed in either wood or steel with a core filled with foam insulation, all wrapped in heavy-gauge galvanized steel. Most steel doors are embossed with a wood-grain pattern so that they look like wood—and on most models that fake wood looks pretty fakey. Some higher-priced units have a real-wood veneer laminated onto the steel. You can also order steel doors covered in a smooth skin that you can paint and repaint. Although steel requires less maintenance than wood, steel doors don't last forever. Steel can rust and become dented.
Fiberglass doors are usually wood frames stuffed with foam insulation and clad in fiberglass. Unlike steel, they won't rust or dent. But like steel, it's hard for manufacturers to make them look like wood.
Aluminum doors are usually the least expensive and almost completely maintenance-free—many come with 20- to 30-year warranties. But most models dent easily. Consider aluminum if you're looking to replace a side or rear door, where appearance matters less and kids won't make them a pocked mess.
Styles
After clicking or thumbing through just a few catalogs, you might feel overwhelmed by the number of options. A good way to start is to determine the size of the opening you have now or that you want to build. This will narrow your choices to a more manageable field. Of course, you'll want to pick a style that matches your home's architecture. Also consider available decorative hardware.
Energy Efficiency
Most well-made doors will minimize energy waste. Wood and fiberglass ones provide better insulation than metal models. Check that any metal door you're considering has a thermal break (a layer of insulation or foam under its metal skin).
The big energy wasters for doorways are gaps and glass. Compare the energy ratings of doors you're considering. To maximize energy savings, look for Energy Star-certified models, and replace weatherstripping as needed.
Quality and Durability
When shopping, ask for samples (called "corner pieces") to see how different materials look and to experiment with different stains and paints. For steel and fiberglass doors, make sure wood-look graining runs across the rails (horizontal parts of the door) and up and down the stiles (vertical parts).
Though you can't easily judge how well various models will hold up, most modern doors are relatively sturdy. Keep in mind that the more wood in a door, the more maintenance it will need. Compare warranties: It's reasonable to assume that a longer warranty indicates a more durable door. Because most door failures occur first in the jamb, look for a long-term jamb guarantee.
Security
Doors should fit snugly within the door frame, with no more than a 1/16-inch gap on either side. Your best defense is to install good locks on all exterior doors. Our articles and ratings on home security companies and locksmiths provide much advice on securing your home's vulnerable spots.
If you want a door with built-in windows, make sure a robber can't break one to reach in and unlock the door. Otherwise, buy a deadbolt lock that must be operated with a key from inside the home. But keep in mind that difficult-to-unlock doors pose hazards in the event of fire.
The last word in door security is a heavy-duty steel door in a steel frame with a high-security lock. A less costly step down is a metal-bar door installed a few inches outside an existing door. When set into a brick or concrete-block structure, defeating them generally takes a lot of time and makes a lot of noise. The simplest kinds of metal-bar doors, which are usually installed along with bars over the windows, make your place look like a prison. But some fabricators make attractive decorative ones, and a few custom build them as individual pieces of art.
Where to Buy
Start by reviewing the ratings of door installers here at Checkbook.org. Because most window installation outfits also do doors, and because we receive many more ratings of window companies than door installers, check out our customer reviews of window companies, too.
For the most part, companies receive favorable ratings for door installation work. But, as with any home improvement work, some companies create headaches for their customers even on simple jobs. Be especially wary of the contractors working for big home-center chains.
You'll Save by Shopping Around
You'll find big-time price variation from company to company for the exact same doors and installation work. Our undercover shoppers requested price quotes from a sample of area companies to supply and install two entry doors and two storm doors. The price quotes we obtained are listed on the table below. For one of the entry doors, we received prices ranging from $4,570 to $10,353. Clearly, getting prices from multiple companies is worth the effort.
Keep in mind that because the big chains offer exclusive product lines for doors, you might not be able to compare prices between independents and Home Depot and Lowe's (although we were able to do so for a few of the doors we sought). Independents offer a much better selection than the big chains.
Plan on having to ask companies multiple times for price quotes; our shoppers found most door suppliers and installers were astonishingly slow to respond to our requests.
Get It in Writing
The installer should come out to take final measurements and provide a written contract that specifies door model, schedule, fixed price, and any warranties and guarantees. Because most doors are custom orders, it's reasonable for installers to require a small down payment—but arrange for the smallest one possible.
Can You DIY Doors?
Yes, but installing doors is probably harder than you think, especially in older houses, which usually have settled a bit. It's often tricky to adjust the door so it's level, plumb, and square. Also, installing a pre-hung door usually involves a fair amount of carpentry and replacing exterior and interior trim; and installing a storm door usually first requires that someone assemble it from what I estimate are 5,000 poorly labeled parts. On the other hand, because most companies charge more than $500 per door for installation work, you'll save a lot by doing the job yourself.