Plotting Your Course for Plant Purchases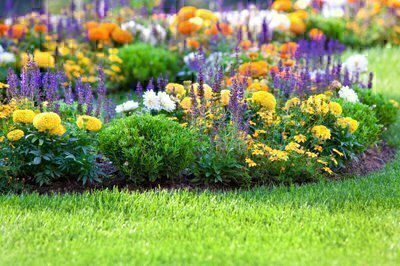 To get started, you'll need to know your garden's soil type and acidity, how things drain, and how much sun different parts of your property get. When making a plan (or adding to an existing one), you'll want to match plant types with areas where they'll probably thrive. You should account for how your property will look both right away and years from now when your plants have grown. Without a plan, you could wind up with an assortment of plants that do not complement each other in size, shape, or color. You might end up with shade where you want sun and with the view from, or of, your house obscured. Worst yet, you might pay for expensive plants when inexpensive ones would work just as well.
Make like an HGTV star and do a rough drawing showing your house, other structures, property lines, and desired plants. Get guidelines and ideas from gardening websites, friends with attractive outdoor spaces, and the experts listed below.
If you want professional help, you have several options. A garden center or landscape contractor can send a designer to your place. And if you want to do your own buying and planting, you can pay a consultation fee for help preparing your own plan or a design fee for the designer to draw the plan. Or get a free consultation by asking a nursery for a landscaping estimate.
You can also hire a landscape architect or garden designer to provide complete service, including consultation, design, assistance in selecting a landscape contractor, and supervision of plant selection and contractor performance. Or get only the consultation or the design. Your first conversation with an architect may be free; from then on, fees are set in various ways.
For more information on landscape designers and landscape contractors, see our article on landscaping help.
Your local cooperative extension office has master gardeners you can call for advice and help with diagnosing plant problems if you bring or send them specimens. Other local sources of gardening expertise:
Washington State University Gardening in Washington State
http://gardening.wsu.edu
Bellevue Botanical Garden
12001 Main Street
Bellevue, WA 98005
425-452-2750
www.bellevuebotanical.org
Lake Wilderness Arboretum
22520 SE 248th Street
Maple Valley, WA 98038
253-293-5103
www.lakewildernessarboretum.org
Plant Amnesty
Historic Building 30
6310 NE 74th Street
Seattle, WA 98115
206-783-9813
www.plantamnesty.org
University of Washington Center for Urban Horticulture and Library
3501 NE 41st Street
Seattle, WA 98105
206-543-8616
https://botanicgardens.uw.edu/center-for-urban-horticulture
Washington Park Arboretum
2300 Arboretum Drive E.
Seattle, WA 98112
206-543-8800
http://depts.washington.edu/uwbg/gardens/wpa.shtml