Getting a Good Price on Window Treatments
Last updated November 2017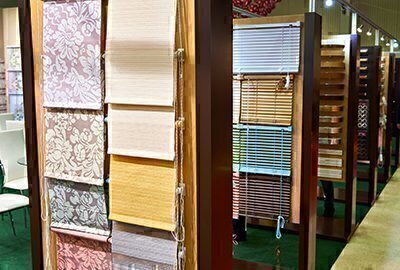 For many types and brands of window treatments, it really pays to shop around. The table below shows you the kind of price variation you'll probably find. It reports costs quoted to Checkbook's undercover shoppers when they sought prices for window treatments for four windows—including cellular shades, blinds, and Roman shades—at a sampling of local stores and online outlets.
For the cellular shades, we specified that we wanted four 3/8-inch single-cell, white, light-filtering cellular shades, 30 inches wide by 68 inches long. For blinds, we checked prices for four two-inch wood blinds (not faux wood) with regular cord lifts in any oak color (with no cloth tape). For the Roman shades, we again asked for four treatments, in white fabric. We also checked installation charges (for the local stores) and shipping charges (for online outlets).
We asked each outlet for prices for its least expensive brand that met our specifications and for several specific brands of cellular shades, if it offered them. Keep in mind that there may be big quality differences among the various brands offered by the surveyed stores.
The table reports the quoted prices for the window coverings, not including installation costs. The last column reports stores' installation fees.
We indicate with bold-italic type the best prices we were quoted. For local stores, when selecting low prices to highlight, we considered stores' installation fees. For the online retailers, which largely don't offer installation services, we indicate with bold-italic type the lowest prices just for each window treatment option, plus shipping.
Here are some of our findings:
Different brands tend to be sold through different channels. For example, Hunter Douglas is sold mostly through local independent stores, Graber at independent local stores and online outlets, and Bali and Levolor products are available at mostly just big chains and online retailers.
For the name-brand cellular shades we shopped for (Bali, Graber, Hunter Douglas, and Levolor), the more expensive outlets offered prices that were hundreds of dollars more than those at the least expensive stores.
When we asked sellers to provide prices for any brand that met our specifications, we found even larger differences—the most expensive local stores offered prices that were more than three times higher than their lower-priced competitors. For the least expensive brand available at each local store (not including installation), prices for the four cellular shades we shopped ranged from $380 to $1,108—a difference of $728. For the two-inch wood blinds, prices at local stores ranged from $352 to $1,200—a difference of $848.
Among local stores, price winners include the big-box operations (Costco, Home Depot, Lowe's) that you'd expect to offer low prices. But we also found very low prices at J C Penney and at some of the independent stores.
For Home Depot and Lowe's, we were surprised to find considerably lower prices available on their websites, compared to the price quotes we got from their local stores.
But don't assume buying online will always save you a lot of money. We found that some online sellers charge low prices and some charge high prices. Plus, a few of the pricey internet retailers were more expensive than local options. Among the websites we shopped, for the least expensive brand offered for our four cellular shades, prices ranged from $160 to $652. For the two-inch wood blinds, prices including shipping at internet sellers ranged from $213 to $1,432. And for the Roman shades, prices at websites ranged from $250 to $1,822.
When using our price table and doing your own shopping, factor in installation costs. (On our table, we added installation costs when deciding which prices to highlight as lowest.) At some stores, installation costs are embedded into the price of the window treatments; at others, installation charges are extra, and at a few, they're substantially extra.
Keep in mind that if you do your own installation work, you probably won't get the kind of generous guarantee you'd get from a top store that does installations.
Depending on the seller, adding special features can substantially increase prices. If you are considering things like fancy trims or top-down and bottom-up operation, be sure to account for the possible extra charges.
Illustrative Prices for
Blinds and Shades

Prices were quoted by stores in response to Checkbook's undercover shoppers. Prices do not include installation fees. For each job, stores were given additional, detailed specifications.

Prices for coverings for four windows measuring 30" x 68". For local
stores, bold-italic type indicates the lowest prices when we factored
in installation fees, which are reported in the last column. For online
retailers, bold-italic type indicates the lowest prices among online stores.
Installation fee for four sets of blinds or shades
Least expensive brand of 3/8" cellular shades
Bali "Cosmo-politan" 3/8" cellular shades
Graber "Crystal-Pleat Garden Retreat" 3/8" cellular shades
Hunter Douglas "Applause Legends" 3/8" cellular shades
Levolor "Accordia Designer Textures" 3/8" cellular shades
Least expensive brand of 2" oak blinds
Least expensive brand of Roman shades in white fabric

Local Stores

A All-Pro Blind Cleaning
3716 Auburn Way N #105, Auburn, 253-941-7870
$600
$1056
$668
$1760
$90
American Floors & Blinds
19717 62nd Ave S #F-113, Kent, 425-255-3893
$560
$1096
$540
$1800
$100
Anchor Blinds
10115 Greenwood Ave N #300, Seattle, 206-407-3220
$800
$1200
$800
$1600
$0
Anita's Interiors
3418 Pacific Ave, Tacoma, 253-472-3386
$820
$820
$740
$1640
$100
Blind Alley
14102 NE 21st St, Bellevue, 425-644-7181
$635
$1115
$557
$1299
$70
Budget Blinds
Federal Way, 253-336-5779
$720
$620
$1120
$0
Calico Corners
104 Bellevue Way SE, Bellevue, 425-455-2510
$1108
$1206
$1064
$1844
$150
Costco
1801 10th Ave NW, Issaquah, 425-369-6732
$464
$464
Does not install
Costco
2219 S 37th St, Tacoma, 253-475-2285
$464
$464
Does not install
Eagle Harbor Window Coverings
164 Bjune Dr SE, Bainbridge Is, 206-842-2241
$668
$740
$588
$1548
$105
Eagle River Interiors
26157 Maple Vly Black Diamond Rd, Maple Valley, 425-413-0090
$676
$836
$636
$1788
$80
Ethan Allen
1018 116th Ave NE, Bellevue, 425-641-3133
$937
$1034
$904
$1728
$165
Geneva's Interiors
29209 Pacific Hwy S, Federal Way, 253-839-9490
$816
$1136
$792
$1800
$60
Harborview Blinds
6324 30th St NW, Gig Harbor, 253-961-7774
$792
$932
$748
$1300
$0
Home Depot
11915 Highway 99, Everett, 425-267-0337
$584
$584
$684
$458
$798
$137
Home Depot
11616 Aurora Ave N, Seattle, 206-361-9600
$584
$584
$684
$458
$798
$137
J C Penney
401 NE Northgate Way, Seattle, 206-361-2500
$528
$554
$528
$475
$718
$125
Jet City Blinds
1200 Westlake Ave N #1006, Seattle, 206-623-2209
$839
$839
$793
$2046
$100
Lowe's
11959 Northup Way, Bellevue, 425-646-9031
$380
$468
$380
$352
$584
$99
Lowe's
101 Andover Park E, Tukwila, 206-243-5470
$380
$468
$380
$352
$584
$99
Olympic Blinds
3910 12th Ave SE #D, Olympia, 360-438-8600
$448
$583
$594
$448
$1160
$99
Pugerude Draperies
118 Railroad Ave S, Kent, 253-852-2517
$1040
$1120
$920
$2000
$185
Shading-Concepts
1275 120th Ave NE, Bellevue, 425-732-6741
$475
$750
$750
$1300
$1050
$1200
$1600
$0
Snider Burien Draperies
247 SW 153rd St, Burien, 206-243-3600
$475
$748
$1065
$523
$1426
$155
3 Day Blinds
Auburn, 253-279-6854
$672
$1212
$624
$1552
$105
3 Day Blinds
3700 Factoria Blvd SE, Bellevue, 425-649-9894
$672
$1212
$624
$1552
$105
Wessco Blinds
210 Nickerson St, Seattle, 206-285-5455
$828
$1008
$776
$1712
$0
Window Wares
15712 Mill Creek Blvd #5, Mill Creek, 425-771-4988
$844
$932
$764
$1816
$55

Online Stores

AmericanBlinds.com
$340
$480
$616
$376
$844
Does not install
Blinds.com
$211
$477
$400
$284
$680
Does not install
BlindSaver.com
$218
$526
$544
$322
$495
Does not install
BlindsExpress.com
$230
$487
$305
$384
Does not install
BlindsGalore.com
$231
$370
$400
$749
Does not install
HomeDepot.com
$288
$605
$213
Does not install
JCPenney.com
$320
$740
$740
$560
Does not install
JustBlinds.com
$212
$276
$416
Does not install
Levolor.com
$567
$567
$1432
$1093
Does not install
Lowes.com
$173
$288
Does not install
Menards.com
$470
$470
$573
$280
$857
Does not install
SelectBlinds.com
$160
$322
$457
Does not install
SmithandNoble.com
$652
$850
$1296
$99
StevesBlindsandWallpaper.com
$171
$525
$539
$388
$250
$250
Does not install
TheShadeStore.com
$1036
$1822
Does not install