Workers in Washington Start Contributing to State-Run Long-Term Care Fund in January. Deadline to Opt-Out is Rapidly Approaching.
Last updated October 1, 2021
Seven in 10 Washingtonians older than 65 will need long-term care (at home or in a care facility) at some point in their lives, according to state statistics. Few can afford the high cost of assisted living/memory care services, which is currently $5,750 a month statewide, on average.
Listen to audio highlights of the story below:


Long-term care is not covered by health insurance or Medicare. Private long-term care policies are expensive, premiums can skyrocket at renewal time, and getting the benefits when needed can be difficult. Also, those with preexisting conditions may be denied coverage.
Most people say they want to stay at home, if possible, as they age—something private long-term care insurance doesn't always cover. So, they rely on family members who may need to quit their jobs or cut back hours to care for their loved one. Others turn to Medicaid after depleting their life savings. Clearly, the system is broken.
To help an aging population live out their lives at home, and to lower the growing reliance on Medicaid, state lawmakers passed the Long-Term Care Trust Act in 2019 which created the WA Cares Fund. Washington is the first state in the country to try such a program.
The new program will offer affordable long-term care insurance to people at all income levels, so they will have it when they need it, according to Ben Veghte, director of the fund.
"This is a great program," Veghte told Checkbook. "It's a real step forward in the retirement security of Washingtonians."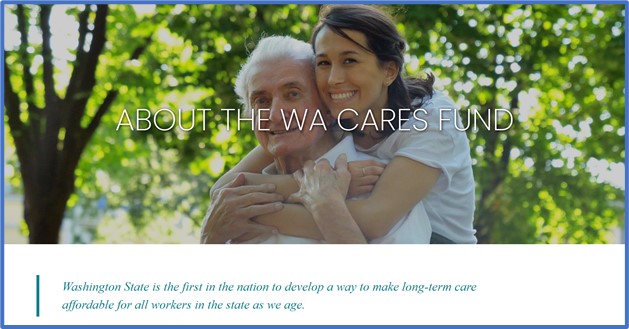 What's the Benefit?
The individual lifetime benefit is currently $36,500. The state says it will be adjusted for inflation over time.
What Can the Money Be Used for?
While it can cover the bills for an assisted living facility, adult family home, or nursing home—for a short time—the benefit will most likely be used for in-home care expenses. These would include wheelchairs, transportation to doctors, home meal delivery, home modifications (maybe to add a wheelchair ramp). You can even hire a home care aid or pay a qualified family member (including a spouse) to provide care.
What's the Cost?
WA Cares is funded entirely by worker contributions. The premium is 0.58 percent, or 58 cents per $100. (Multiply your wages x 0.0058.) For a worker earning $52,075, the premium is $302/year. That's nine times cheaper than the typical premium for a long-term care insurance policy nationwide, according to the National Association of Insurance Commissioners.
How Do I Enroll?
Enrollment is automatic for all employees who receive a W-2. Premium payments via payroll deduction start in January, unless you opt out of the program.
How Do I Opt Out?
To do that, you must already have "comparable" long-term care insurance or buy a qualifying policy before November 1, 2021, and then apply to the Employment Security Department (ESD) for an exemption. Use this link: https://wacaresfund.wa.gov/apply-for-an-exemption/
The law gives you until December 2022 to file for your exemption, but if you have all the paperwork in order, file before the end of this year. If you delay, premium deductions will start in January and continue until your exemption is approved—and once withdrawn, that money is not refundable.
If you change jobs, you will need to present your ESD opt-out approval letter to all future employers. Otherwise, they will withhold those non-refundable premiums.
Note: This is a one-time opportunity to opt out; if you do, you can never get back into the program again.
"I would advise most workers in the state not to try to apply for an exemption; it's probably not in your best interest," Veghte told Checkbook. "This program is a very good deal for 90 percent of the people in the state."
More About Benefits
The first benefits from the WA Cares Fund won't be paid until 2025. To be eligible, you must have worked at least 500 hours per year and paid into the fund for at least three years.
You are permanently vested after you've paid into the fund for 10 years at any time in your life, without a break of five years. Permanent vesting means your benefits are available to you for life.
Once vested, the state says you will need help with at least three activities of daily living, "such as eating, bathing, or toileting," to qualify for your benefits.
A Few More Details
WA Cares does not cover federal workers, including military members, or those who are self-employed. If you are self-employed and want to join the fund, you have until January 1, 2025 to do that.
If you live in Idaho or Oregon, but commute to a job in Washington, you will pay into the fund.
Current retirees do not pay premiums into the fund and are not eligible to receive benefits.
The benefit is portable if you change employers, but you'll lose it if you move out of state.
Your policy does not have any cash value, so you cannot cash-out the contributions.
You'll find a Q&A about the new program on the WA Cares Fund website. Individual questions will be answered during several upcoming live webinars.
Praise, Confusion and Frustration
Since this has never been attempted in the U.S. before, many of the details are still being figured out. As one observer told Checkbook: "They're basically building the plane as they're flying it."
AARP was one of the big drivers of this program because it sees the looming crises of helping our aging population.
"We really tried to take into consideration a program that would work for 97 percent of all Washingtonians, and really looked at a payroll premium that we felt would be affordable," Cathy MacCaul, advocacy director at AARP Washington, told Checkbook. "You hope that you never have to use it, but it's so comforting to know that this policy is there and that the WA Cares program is available to all Washingtonians."
With private long-term insurance, women are often charged more than men (because they live longer). Everyone pays the same premium for WA Cares, MacCaul noted.
MacCaul acknowledges that $36,500 would not cover the cost of even a year at a nursing home or assisted living facility, but she said it will make "a significant difference" for someone who doesn't want to leave their home.
It could pay for about four hours a day of in-home care for 12 to 18 months, she said. And unlike private insurance, the state-run program does not have as many restrictions on how you can use the monetary benefit.
What's Not to Like?
No one would expect such a program, especially one that requires mandatory contributions, to be without controversy.
The Washington Policy Center, a conservative think tank, calls WA Cares "misguided" and says it is "glaringly unfair," and funded by a "payroll tax." The state insists this is not a tax.
"Having the state become a long-term-care insurer—one that offers a bad product—misses the mark," the center's Elizabeth Hovde wrote in a recent blog post in which she called for the law to be repealed.
Hovde acknowledges the state is trying to deal with a serious problem, but she believes the
"There is so much time being spent framing this as a compassionate, wonderful way to help the elderly when they never address the fact that…they're taking money out of low-income paychecks to do this, making [low-income workers'] ability to save or invest even rougher," Hovde told Checkbook.
Opting Out May Be Difficult
Since the summer, insurance companies have been flooded with applications for long-term care policies.
Stacy Walker, a broker at Alliance West Insurance in Tacoma, normally sells about 60 long-term care policies a year. In the last few weeks, she's written a couple hundred of these policies.
"It's a crazy time," Walker told Checkbook. "In the past, trying to get someone to talk about long-term insurance was like pulling teeth, but now my phone doesn't stop ringing."
Many of the people calling are 20-year-olds who make it clear they want a bare-bones policy that qualifies for the state exemption and can be cancelled in a few months.
"Throwing away money to an insurance company is no better than throwing away money to the state," Walker said.
Insurance companies realize that many of the people looking for policies right now will cancel them once they receive an exemption. As a result, many companies have stopped offering these policies in Washington.
State Insurance Commissioner Mike Kreidler told Checkbook his office has heard from hundreds of people in recent months who want to buy a qualified policy.
"Unfortunately, many companies are no longer selling policies or cannot process the number of applications they're receiving in time to meet the fall deadline for people to be exempt from the new law," Kreidler said.
In other words: If you want to opt-out, you may find it difficult to buy a qualifying policy by the end of October.
Be careful: The AARP Fraud Watch Network warns that scammers or companies not licensed to sell insurance in this state may try to fill the void. If you're not familiar with the company, check them out at the Insurance Commissioner's website before you do anything.
Kreidler's office regulates companies offering long-term care insurance in Washington, but it does not have any oversight of the WA Cares Fund. Even so, Kreidler said the new law presents "many challenges" that he hopes the legislature will deal with during its next session in January.
A Few Words from the Director of WA Cares
Veghte is passionate about his mission: To help families in the state and prevent a looming economic crisis resulting from an aging population.
The need for long-term care will double in the next 15-20 years, he said, which will overwhelm the state's Medicaid program and could likely result in higher taxes.
Veghte compared WA Cares to Medicare, calling it an important part of someone's retirement security.
"If we talked to our parents and grandparents, they would tell us that Medicare was a good deal for them, and they're glad that they paid in," he said.
Veghte defended the $36,500 lifetime payout, saying it could do a lot of good for a lot of people. The legislature had to keep the initial payout low to keep the premiums low. But he noted the benefits will be adjusted for inflation every year, so in 30 to 40 years, that benefit could be $70,000. Premiums can only go up if the legislature acts to raise them.
My Two Cents
The Washington legislature created a complicated program that starts in less than three months, and many Washingtonians still don't know enough to make an intelligent decision.
I used the WA Cares website many times in preparing this story. It's heavy on marketing the product and could do a better job of clearly explaining it. During our interview Vegete acknowledged that a lot of the specific details and nuances have yet to be decided.
"It's a new law," he said. "It's still being fine-tuned."
Contributing editor Herb Weisbaum ("The ConsumerMan") is an Emmy award-winning broadcaster and one of America's top consumer experts. He is also the consumer reporter for KOMO radio in Seattle. You can also find him on Facebook, Twitter, and at ConsumerMan.com.