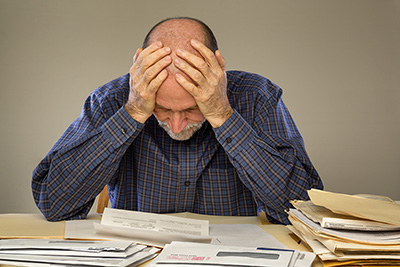 "This must be a mistake."
That's a natural reaction if you get an unexpected medical bill. It might be an error, or your insurer hasn't paid the claim yet. Or the provider submitted the claim but used the wrong codes. Or your insurance plan decided it doesn't have to cover the care you got. Or you've discovered, too late, a coverage gap in your insurance.
The number of Americans without health insurance is at an all-time low—fewer than 10 percent don't have it—but millions more remain underinsured with plans that have large deductibles and copays.
"Large and unexpected medical bills can still happen due to inadequate insurance and savings. A third of single-person households with private insurance in 2019 did not have enough liquid assets to pay a $2,000 bill," said Krutika Amin, associate director at the Kaiser Family Foundation.
Bills can also pile up from major medical needs—cancer, chronic disease, and disability. Adding to the misery, hospitals and other providers often sic aggressive debt collectors on non-payers, which can hurt credit scores. Crushing medical debt is the cause of one in five bankruptcies.
Although medical billing is a complicated system, here's how to deal with surprise-bill nightmares.
Is it really a bill?
It might just be an Explanation of Benefits (EOB) form sent by your insurer that reports the sometimes-shocking prices of services you received but doesn't so obviously tell you the lesser amounts you're expected to pay. These notices can be confusing, and usually include several costs that aren't your obligation. Zero in on the bottom-line amount that reports what you pay.
Give the system time to sort itself out.
Procrastinators rejoice: Many experts suggest ignoring all initial medical bills.
"A provider often sends the bill before the insurance company has caught up with and accurately adjudicated it, or they don't even send the bill to the insurance company," said Marshall Allen, an investigative health reporter and author of the book Never Pay the First Bill.
By waiting a month or so, you give healthcare providers time to submit claims and for reimbursement to occur. After that, ideally you'll get a new lower bill.
Make sure the provider billed your insurer.
Check the bill for adjustments and payments from your insurer. If you don't see any, ask the provider's office staff if a claim was submitted; if one wasn't sent, ask them to do so promptly. If it appears a billing mistake was made, ask them to fix it and resubmit.
If the provider doesn't participate in your insurance plan's network, they might not submit your claims at all, even if you ask. You must do that—and likely get reimbursed for less than the amount on the bill. If that happens, ask the provider if you can pay a lower amount (see below).
Check that your health insurance plan paid what it should have.
Get an EOB (Explanation of Benefits) from your insurer. EOBs state which services you received from whom, how much was charged, how much your plan paid, and your out-of-pocket responsibilities.
Compare the EOB with the cost-sharing details of your plan: your annual deductibles (per covered person and per family), copays (which sometimes differ by type of provider), and out-of-pocket limits. If you haven't yet met the plan's annual deductible, for example, that might explain why you got billed more than expected. Often, a call or email to your insurer or healthcare providers will help you understand the bill.
If the EOB seems wrong, find out if the healthcare provider made a mistake.
Request itemized bills and check them: They often contain errors.
AnnMarie McIlwain is CEO of Patient Advocators, which helps consumers solve complex medical billing problems. One client, "Sylvia," was treated for leukemia at New York's Memorial Sloan Kettering Cancer Center and billed for a bone marrow transplant, which she never received. McIlwain stepped in and got those costs removed from Sylvia's bill. "That dropped a quarter-million dollars off," she said.
Compare your detailed bill with your records and what you remember about your diagnosis and treatment. Doctors and hospitals have records, too, and you have a right to obtain copies of them. Ask for any "clinical notes," "after-visit summaries," and "patient notes" if you had an ER visit. If you find a discrepancy, ask for an explanation.
One obstacle for doing this homework is that medical bills usually use Current Procedural Terminology (CPT) codes to describe medical services. You can try to translate them into plain English with the look-up database at FAIRHealthConsumer.org, a nonprofit provider of healthcare costs and insurance information. Click "Medical and Hospital Costs" to access its free tool.
Check whether the bill is illegal.
If your bill was for medical care you didn't foresee—an accident, sudden illness, or other emergency—the federal No Surprises Act, which went into effect in 2022, provides protections if you were treated at a hospital ER that participates in your insurance plan's provider network. The law stipulates that any out-of-network providers working there cannot bill you for amounts above your insurer's in-network rate.
Such so-called "balance billing" was often used to add hundreds to thousands of dollars in surprise medical bills to the cost of ER visits. For example, in 2020 one of McIlwain's clients got a bill for $100,000 from a New York hospital 18 months after being treated in its ER. Fortunately, New York state law had already banned such balance billing in advance of the federal law, and McIlwain quickly got the charge zeroed out after she explained the violation to the provider.
The No Surprises Act applies if you're covered by an employer plan, federal exchange marketplace plan, or individual health plan. It also applies to non-emergency care from out-of-network providers who treat you at an in-network hospital or outpatient facility, or ambulatory surgery center if the facility participates in your insurance plan's network. Expensive air ambulance service is covered, too.
Unfortunately, the No Surprises Act didn't close a big loophole: It doesn't apply to ground ambulance services. Ten states have laws that do ban that type of balance billing, but Washington state isn't one of them. An estimated 89 percent of ambulance riders in Washington were subject to a surprise out-of-network bill, with a median extra cost of more than $480, according to a study of over 80,000 rides from 2013 to 2017.
Still owe a lot of money? Check whether fees are reasonable.
New laws passed a few years ago and launched between 2021 and 2024 require hospitals and health insurers to provide patients with more price transparency.
Hospitals now must have online tools providing the prices they charge for 300 "shoppable" non-emergency services that can be scheduled in advance.
Health insurers must create similar, but more specific, tools to provide you with estimates of fees they've agreed to pay providers for services, plus what your out-of-pocket costs should be. We think the tools required of insurance plans are more precise and easier to use than what hospitals are required to provide.
FAIRHealthConsumer.org publishes a free online tool displaying in-network and out-of-network estimates of the usual, customary, and reasonable (UCR) rates paid by insurers in each ZIP code for hundreds of example procedures, treatments, and testing. "Consumers can use our cost estimates to negotiate healthcare costs with an out-of-network provider, after receiving a bill or before receiving services," said Robin Gelburd, FAIR Health's president.
Ask to pay a lower price.
"It never hurts to call and negotiate with the health plan or provider," said the Kaiser Family Foundation's Amin.
Hospitals, imaging centers, specialists, and other healthcare providers typically charge different patients different rates, depending on their insurance and ability to pay. Often, middle- and upper-income patients with private insurance pay much more than those covered by Medicare and Medicaid, or those who lack insurance altogether.
"The truth of the matter is, you have to look at the Medicare rate, which is the middle-of-the-road price for every possible procedure," said Adria Goldman Gross, CEO and founder of MedWise Insurance Advocacy, and co-author of the book Solved! Curing Your Medical Insurance Problems.
"Depending on the company, a good employer health plan pays three to 10 times the Medicare rate. But many doctors will say, 'If you're not covered, we'll charge you only the Medicare rate itself,'" said Gross. Gross reviews her clients' bills, contacts providers, and usually tries to "move them toward the Medicare rate."
Ask the provider to forgive some or all of the debt.
Most hospitals offer assistance for families with incomes below certain levels. Those limits are not as restrictive as you may think: A family of four earning less than $105,000 a year can often qualify for assistance, according to ClinicPriceCheck.com, which tracks assistance programs around the country. Some hospitals provide aid to households earning less than $300,000.
After "Jan" went to an Arizona hospital to have a baby, she was diagnosed with cancer and received a mix of in-network and out-of-network maternity and cancer care. After receiving bills from 12 different providers totaling $125,000, she discovered her HMO would pay only $40,000.
After Mary Daniel, a patient advocate and CEO of ClaimMedic, helped Jan apply for financial assistance, the hospital agreed to waive Jan's out-of-pocket charges. Daniel then sent copies of the hospital's approval letter to the patient's numerous other doctors and asked for similar assistance. They, too, agreed to take what insurance had paid and waive the rest. "If a patient can get financial assistance from the hospital, it is common for the other providers to give that level of assistance as well—if you ask them," said Daniel.
Assistance is available in various ways—for example, price discounts and lowering or eliminating copays, deductibles, and other charges. ClinicPriceCheck.com has a financial assistance search tool that can help you find assistance programs at specific hospitals. The tool can also file an assistance application on your behalf for $9.99.
Find help with expensive prescriptions.
Need an expensive drug not covered by your insurance plan? Check with the pharmaceutical manufacturer to see if it has a patient support program offering significantly reduced prices for qualified applicants.
ClaimMedic's Daniel advises patients to start by talking with their providers. They might know about available programs and requirements. In some cases, you might first have to show that you unsuccessfully tried other treatments first.
Daniel helped "Phil" get Remicade, an intravenous infusion used to treat Crohn's disease, which his insurance didn't cover and would have cost him $5,165 every three months. Using a combination of write-offs and rebates, Phil's out-of-pocket cost was reduced to a $5 copayment.
Consider hiring a patient advocate.
If you don't have the expertise or strength of health to deal with a medical bill, hire a patient advocate. Skilled medical-billing advocates use their knowledge and noses for nonsense to identify errors and apply little-known consumer protection laws to get them fixed. Their expertise and contacts enable them to get fast results that can reduce your financial exposure and alleviate needless stress. Because you usually have to pay patient advocates (costs range from $100 to $350 per hour), hire one only for large bills.
"One of the biggest arguments we use for a person who has no insurance, goes to the hospital with appendicitis, and walks out with a $250,000 bill is [to ask providers], 'Do you want some money or no money?'" said Daniel. "'You can force the person into bankruptcy and the doctor gets nothing or we can negotiate.' We have great success getting those bills reduced."
Click here for more info on patient advocates and how to find one.
Ask for a payment plan.
Providers typically will arrange to let you pay their bills over time, often without interest. Because doctors and hospitals would rather get paid than hand off your debt to a collections service, "make sure you adjust the term to set the monthly payment at an amount you can afford," said Patricia Kelmar, senior director of Health Care Campaigns for U.S. PIRG. If you have a $3,600 bill and you will have trouble paying $300 a month over 12 months, offer to pay $100 a month over 36 months.
Another alternative? Use a credit card or take out a personal loan, but do that as a last resort—you'll likely get better repayment terms and lower (or zero) interest rates from healthcare providers. Another downside to shifting medical debt to a loan is that once you do so, it becomes ordinary consumer debt and no longer enjoys some of the new protections for medical debt, said Kelmar.
In July 2022, the big three credit bureaus—Equifax, Experian, and TransUnion—started removing medical debt sought by collections companies from credit reports when it is paid off, rather than keeping it there for up to seven years. And starting in 2023, medical debts of less than $500 are no longer included on credit reports, even if unpaid.