Selecting a Lawn Care Service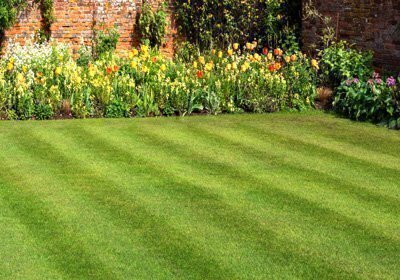 Kermit the Frog once crooned "It's Not Easy Being Green." If you have a lawn, you can relate: It's not easy keeping things green.
If you lack the time, knowledge, or willpower to keep it green, you can call in the pros. You'll have many choices, and our Ratings Tables provide information comparing area companies or branches.
Here's how to plot a course.
Compare Ratings from Customers
We survey area consumers (primarily Checkbook and Consumer Reports subscribers) for their feedback on services they use. Our Ratings Tables report the percent of surveyed customers who rated each company "superior" ("inferior" and "adequate" were the other rating options) for survey questions "doing work properly on the first try," "starting and completing service promptly," "letting you know cost early," "advice on service options and costs," and "overall quality." We also report the percent of each company's surveyed customers who rated it "adequate" or "superior" (as opposed to "inferior") for "overall quality." Our Ratings Tables list all the companies for which we received at least 10 ratings. Click here for further discussion of our customer survey and other research methods.
The lawn care field produces substantial numbers of dissatisfied customers. Several of the companies listed on our Ratings Tables failed to get "superior" overall ratings from even half of their surveyed customers. Many complaints relate to poor work and/or poor results.
Check for Complaints
In addition to ratings from customers, our Ratings Tables show counts of complaints we gathered from the Consumer Protection Division of the Washington Office of the Attorney General for a recent two-year period, and complaint rates relative to the volume of work companies do. Click here for more information on reported complaint counts and rates.
Compare Proposals and Costs
Lawn service might seem like a very personal business (Hey, there's a sweaty guy in my yard!). But most companies don't tailor their tasks to your property: They offer customers a selection of annual packages with specified treatment plans. Some services also offer one-time treatments, some automatically renew the contract each year, but almost all allow you to cancel a contract at any time and pay for only the visits you have received.
Since different companies will propose different combos of treatments, it's hard to compare prices. Instead, you'll have to detail the quality of service you want and any special factors—for example, your tolerance for weeds and the types of fertilizers or pesticides they can use. Then get prices for the service each company suggests for your yard.
Start by selecting from our Ratings Tables companies that surveyed customers rated high. Invite several to inspect your lawn and propose programs and prices.
Although most companies don't require the homeowner's presence during inspections, we recommend meeting with representatives in person. It's a good way to size them up. Let each know:
Your tolerance for weeds, thin spots, and other lawn defects;
What you envision as the end result of the treatments;
How soon you expect the lawn to reach an acceptable condition;
How much work you are willing to take upon yourself;
Your concerns (if any) about the use of synthetic fertilizers and pesticides; and
What kinds of notification and other precautions against possible pesticide risk you can expect.
Show the representatives what you don't like about your lawn's current condition, and ask them what they would do to fix it.
Ask about service contract options. Make sure you get a price quote for the services that will be provided during at least one entire year. The figure below shows the range of prices we found when six Checkbook undercover shoppers asked lawn care services to propose the work needed, and the cost, to meet our homeowners' quality expectations. You can see that there are big company-to-company price differences.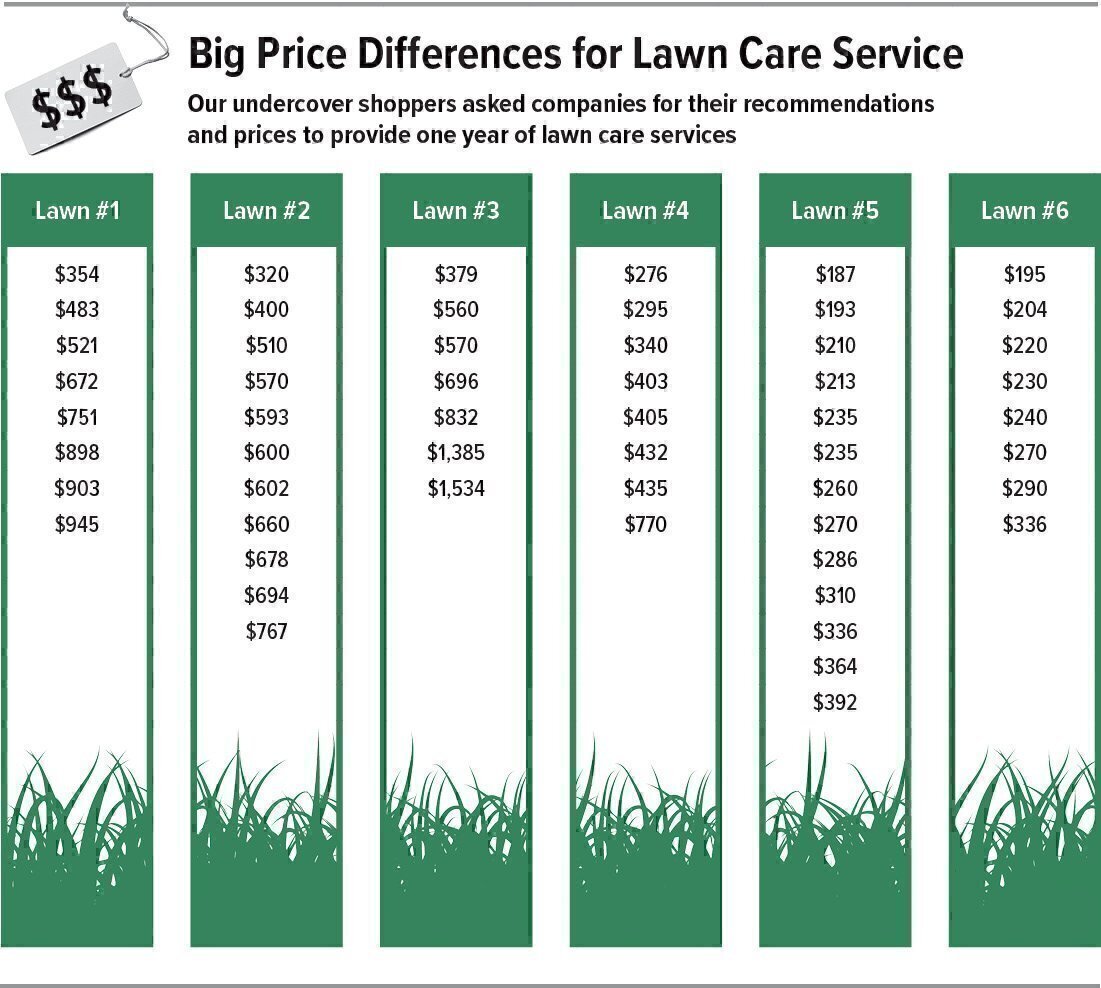 When collecting prices, keep in mind that the specific services recommended to meet your expectations will vary from company to company—and that some companies might not be able to satisfy you. You may discover that many price differences exist because some companies recommend expensive treatments (aeration, seeding) as part of their annual programs while others do not. Some companies will propose regular periodic visits for the basics (fertilization, weed control, insect control) and later recommend more expensive treatments (seeding, aeration), if needed. If a company doesn't include these expensive treatments in its quote, ask how much it will charge for them in case you need them later.
Ask About Guarantees
Almost all companies provide some kind of guarantee, usually to refund money or reapply a treatment if the customer is not satisfied. But this standard promise won't cut it if the company you hire for one year makes little progress with your lawn.
But you may be able to persuade some companies to guarantee much more. Ask each business if it will agree, in writing, to refund your money for an entire year if you are not satisfied or to continue service at no cost until you are satisfied or, at the company's discretion, refund service payments for the past year. We find that, if asked to do so, many lawn care services are game for such promises, a boon if you've got great green expectations.
Consider Opting for a Limited Program
Again, for most lawns proper mowing can reduce the need for other expensive treatments throughout the year. Generally, once a lawn is established, less treatment and maintenance are necessary, with annual fertilization and seeding (if needed) the most critical. If a company offers a limited program—and if you can be patient—try it for a year or two; if things don't progress satisfactorily, switch to a more extensive program.
Weighing Organic Options
In the past few years, all lawn care services have begun offering "natural" or "organic" programs. Although these labels are used rather loosely, these plans usually call for fertilizing several times a year, usually with a natural fertilizer, plus periodic core aeration and over-seeding. Coupled with proper mowing and watering, these simple programs can create lawns just as attractive as those that receive conventional treatments.
Some companies offer more extensive organic programs with controls for weed and pest problems and inspection by knowledgeable, trained staff. Many companies use natural herbicides—corn gluten meal, insecticidal oils and other chemicals that are less toxic than traditional herbicides and pesticides.
Some firms also offer biological control alternatives like nematodes. Use of these biological controls is fairly uncommon, however, mainly due to the costs for labor and materials and uncertainty about results.