Which Grocery Stores Offer the Best Prices and Quality?
Last updated November 2022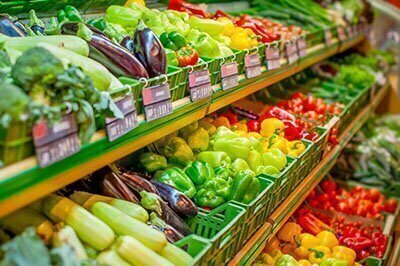 Our ratings of Puget Sound area grocery chains and stores report how each stacks up for price and quality. To compare prices, our researchers used a 154-item list of common items to shop area options. To evaluate stores on quality of products and service, we surveyed area consumers. The figures below summarize our findings; for details, see our Ratings Tables.
Here's a rundown of the results:
Grocery Outlet, Walmart, and WinCo Foods were the price winners—where many families could save more than $2,800 per year.
Grocery Outlet, which offers a somewhat odd assortment of steeply discounted surplus national-brand products, offered prices that were about 27 percent lower than the average. WinCo and Walmart were the other big savers, with prices 25 and 22 percent lower than average, respectively.
For a family that spends $250 per week at the supermarket, a 22-to-27-percent price difference could save them $2,800 to $3,500 a year.
Shoppers using Grocery Outlet will have to shop at more than one place.
Although Grocery Outlet wins for price, it offers few options compared to other grocery stores: The location we shopped carried only 28 percent of the items in our market basket.
Fred Meyer was the next-best bet for low grocery prices in the Puget Sound area.
Its prices were a respectable 14 percent lower than the all-store average.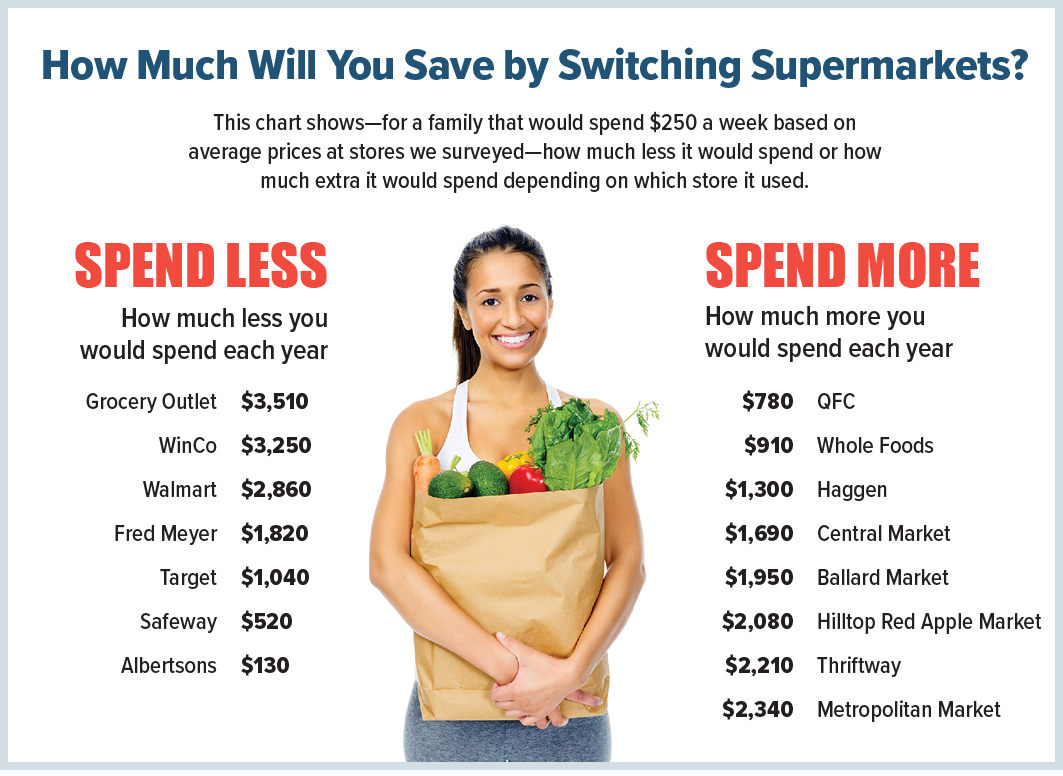 Target charges high prices for produce.
Although Target's overall prices were about eight percent lower than average, the location we shopped had produce prices that were 11 percent higher than average. In general, we found that the Target stores around the U.S. that lack scales at checkout, and therefore price produce per piece or package, offer undersized items relative to their price tags. (At Target and other stores that price produce per piece, we used our own scales to weigh items to convert costs to price per pound.)
Whole Foods remains an expensive choice—and its ratings for quality continue to dip.
When Amazon purchased Whole Foods in 2017, many consumers were excited by the prospect of paying Amazon-like prices for Whole Foods-quality products. That hasn't happened.
Whole Foods built a loyal following by offering high-quality produce, meat, prepared foods, and generic staples, and for years earned high marks in our surveys of consumers, especially produce and meat quality. While Whole Foods' customers continue to rate it fairly highly, on our "overall quality" survey question its scores have dropped significantly: Only 56 percent of its surveyed customers rated it "superior" overall.
Our price survey found that Whole Foods remains among the more expensive among local chains and stores we shopped—about seven percent higher than the all-store average.
Among the area's large, traditional supermarket chains, QFC offered the highest prices.
QFC's prices were 41 percent higher than WinCo, 36 percent higher than Walmart, 23 percent higher than Fred Meyer, 15 percent higher than Target, 10 percent higher than Safeway, and seven percent higher than Albertsons.
On the quality side, Albertsons, Grocery Outlet, Safeway, and Walmart rated low for "quality of fresh produce," "quality of meats," and "overall quality." Among them, Walmart ranked last for "overall quality."
The highest-rated outlets are all small operators.
Ballard Market, Metropolitan Market, PCC Community Markets, and Thriftway were all rated "superior" for produce quality and for overall quality by more than 80 percent of their surveyed customers.
Unfortunately, the stores that rate highest for quality charge high prices.
The businesses rated highest overall each had prices that were at least 13 percent higher than the all-store average.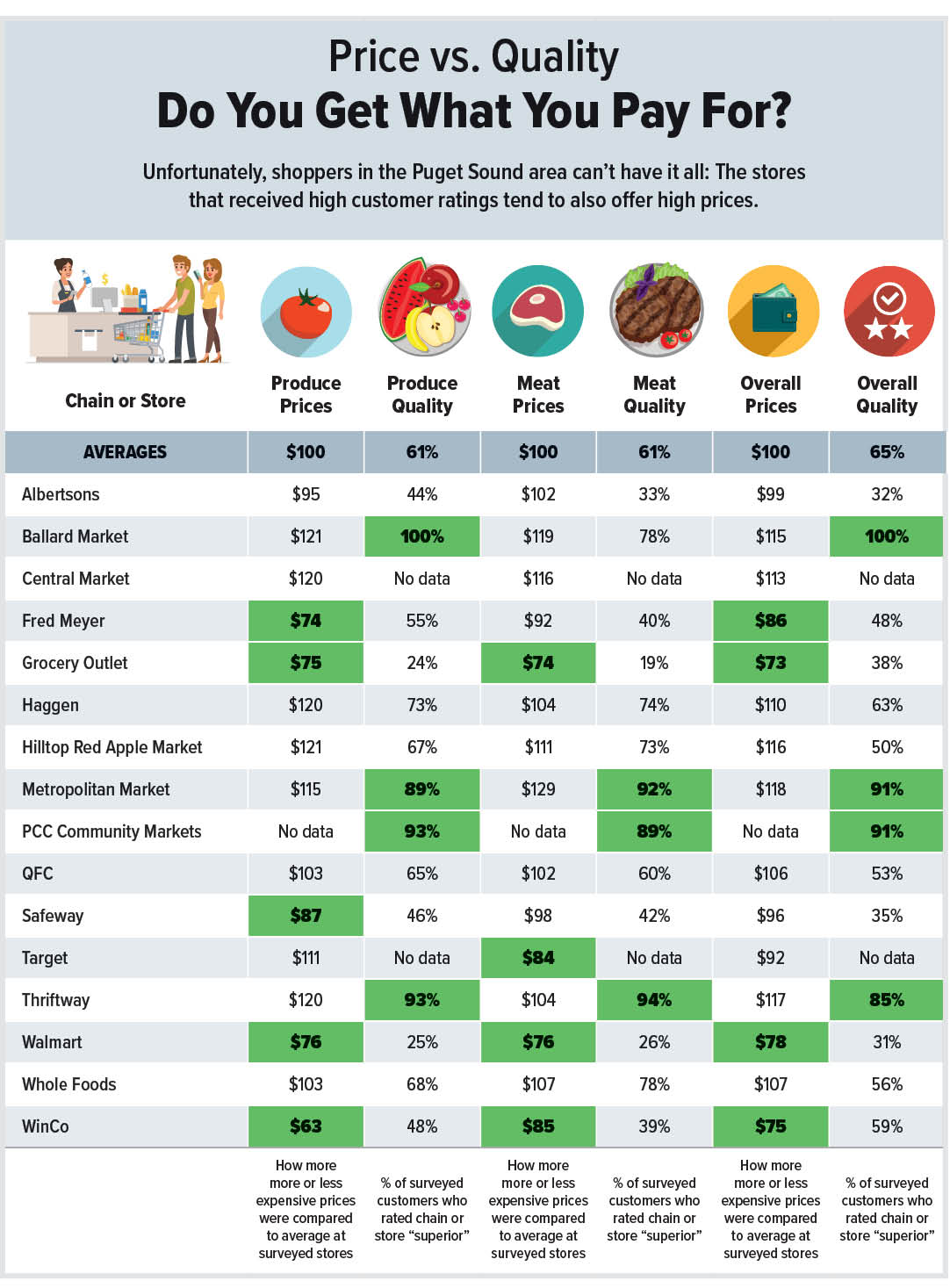 Within the largest chains, there is only small store-to-store price variation.
Whole Foods' Prime discounts don't add up to much.
Like most other grocery stores, Whole Foods uses "loss leaders"—widely advertised discounts on a small number of items—to draw customers into stores (when calculating our price comparison scores, we include sale prices). But with Whole Foods, there's a twist: At checkout, Amazon Prime members can automatically get an extra 10 percent off items that are on sale, plus special "Prime Member Deals" for a small number of other weekly special items.
If you shop at Whole Foods often, the 10 percent bonus discount for on-sale items is a nice little benefit—although it's unlikely many shoppers will rack up enough savings to cover the annual fee for Prime ($139/year or $14.99/month).
Sometimes Amazon/Whole Foods' Prime Member Deals are designed to garner a lot of attention. For example, for Valentine's Day the company has hyped that Prime members can buy two dozen roses for $19.99, instead of $24.99. But because Whole Foods and Amazon offer so few of these discounts (usually it's only two or three items per week), they won't save most shoppers much money overall.
You can save by substituting store brands and generic products for national brands.
At most stores, when we substituted cheaper generic and store brands for about one-sixth of the items in our price-shopping market basket, the total cost of our list dropped by about seven percent.
Check out the other articles in our "Grocery Stores" category and our ratings tables for info on all the local grocery options, how we rated them, and tips on saving no matter where you shop.