Americans use a lot of prescription meds: Sixty-six percent of all adults in the U.S.—131 million people—take at least one, according to the Health Policy Institute at Georgetown University. Unfortunately, billions of unused doses end up stashed in medicine cabinets: A 2021 survey done for Covanta, a waste management company, found that the average American adult was hanging on to four leftover medications—three of them expired.
The U.S. Environmental Protection Agency (EPA) warns that leftover pills are "a public safety issue" posing risks of "accidental poisoning, misuse, and overdose." Too often, unused medications scattered around the house wind up in the hands of children, and the results can be tragic: About 35,000 children under the age of five are rushed to hospital emergency departments each year after accidentally taking prescription drugs, according to the Centers for Disease Control and Prevention (CDC). And the Drug Enforcement Administration (DEA) cautions that more than half of teenagers who abuse prescription drugs find them in their own homes or those of friends.
Experts urge Americans to find old drugs and get rid of them. But the Covanta survey found that more than half of respondents (53 percent) had no idea how to dispose of medications properly. Most said they throw them in the trash or flush them, even though they know this could harm the environment.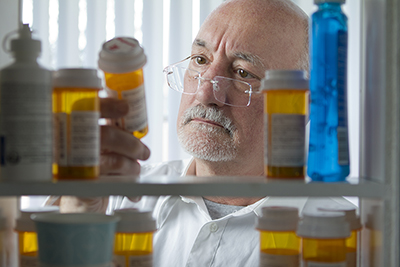 The best way to dispose of prescription drugs—as well as over-the-counter medications, supplements, and even pet meds—is via a drug "take back" program. Many local pharmacies, grocery stores, hospitals, and police departments have drop-off boxes. It's a free service, and you don't need to show identification or fill out any paperwork. Drugs collected this way are incinerated at specially permitted waste-to-energy power plants.
Before taking in your unused stuff, leave drugs in their containers, but remove any prescription labels or use a marker to block out your personal information to protect your privacy.
The DEA website provides a database of take-back sites; click this link to find those close to you or call 800-882-9539.
You can also ask your pharmacy if it sells postage-paid envelopes for mailing unwanted medications, inhalers, or injectors (EpiPens, pre-filled syringes) to disposal facilities.
Taking or mailing drugs to drop-off spots is the safest option; if you don't want to do that, it's better to toss unused prescriptions in the trash than to hold on to them. The Food and Drug Administration (FDA) recommends removing drugs from their original containers and mixing doses with "undesirable" materials, such as cat litter, dirt, or used coffee grounds. Then place that mixture in a disposable container with a lid or sealable bag so it doesn't leak or spill out.
The EPA advises against flushing most drugs down the toilet. If you have a septic tank, flushed drugs can seep into the groundwater. Even if your house is connected to a sewer system, drugs that go down the toilet "can pass through the treatment system and enter rivers and lakes," the EPA cautions. Most water treatment plants are generally not equipped to routinely remove medicines. The FDA maintains a list of flushable medicines; click this link to access it.
Not sure what you have? Medscape and several other websites offer interactive pill-identifying pages.
Contributing editor Herb Weisbaum ("The ConsumerMan") is an Emmy award-winning broadcaster and one of America's top consumer experts. He has been protecting consumers for more than 40 years, having covered the consumer beat for CBS News, The Today Show, and NBCNews.com. You can also find him on Facebook, Twitter, and at ConsumerMan.com.